Backup and Recovery Infrastructure Monitoring with Nagios
Organizations proactively monitor mission-critical IT infrastructure to detect and mitigate issues that may disrupt their services. Following the quote "prevention is better than cure", teams believe it's always better to keep an eye on the infrastructure for impending issues than try to deal with them after they happen. Although humans are challenged to constantly monitor, fortunately we have great tools to completely automate this process.
Nagios is one of them. This open-source, widely accepted and used industry tool monitors infrastructure and provides notifications over emails, SMS, pagers, and more. With its extensible architecture, organizations are able to extend Nagios core with plug-ins that monitor specific infrastructure.
To meet the needs of our customers and prospects, we recently developed and released the Cohesity Nagios plug-in to monitor Cohesity DataPlatform and Cohesity DataProtect.
The Metrics Behind Proactive Backup and Recovery Monitoring
Our Cohesity Nagios plug-in monitors:
Disk, node, cluster, node health, cluster health, backup restore, encryption, archival restore, remote replication, quota, license, Cohesity Helios proactive wellness, Helios analytics jobs, Helios signature jobs, and security-related alerts
Percent of storage used for metadata over total storage available for metadata
Number of inactive nodes
Percent of unprotected objects
Backup and copy runs in the last N days. (N is configurable.)
Percent of total capacity used after change block tracking, compression, and deduplication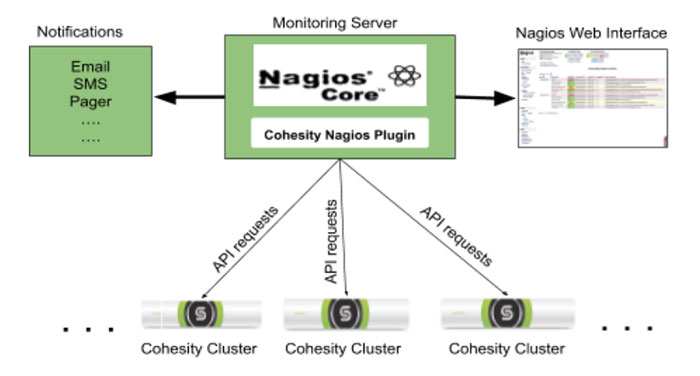 Why Nagios for Cohesity Backup and Recovery?
The Cohesity plug-in runs on a Nagios monitoring server — without having to install agents on Cohesity nodes. Easy to set up, multi-cluster monitoring support delivers both great value and simplicity. Consistent with Cohesity's API-first strategy, our Python SDK is powered by Cohesity REST APIs and is used in development.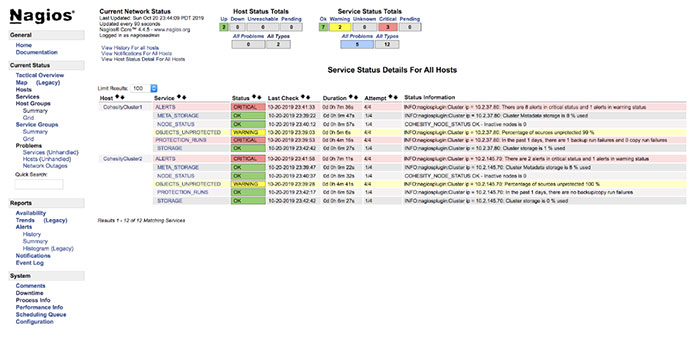 Organizations relying on Cohesity backup and recovery infrastructure will greatly benefit from this plug-in. It takes just 15 minutes to set it up and delivers peace of mind. You can oversee multiple Cohesity clusters and your existing infrastructure from a single Nagios web interface — saving time by eliminating the juggling between multiple dashboards.
Try the Cohesity Backup and Recovery Nagios Plug-In
The source code and a set-up guide with samples can be found at cohesity-nagios-plugin. The documentation serves both Nagios aces and beginners. If you're a developer who loves to write scripts and wants to contribute to this plug-in, connect with us at cohesity-api-sdks@cohesity.com.
Have an intriguing use case the plug-in can support? Check out our plug-in on Nagios exchange and share your feedback.