Cloud and Clear: Cohesity Cloud Archival
Yep, we all agree to that!
Cohesity provides a way to archive your secondary storage to the cloud or you can add cloud as a tier in addition to SSD and HDD. Cloud Tier and Archival augments on-premise Cohesity storage, provides invisible additional storage. Cohesity supports Google, Amazon and Microsoft Azure as cloud providers for cloud tiering and archival.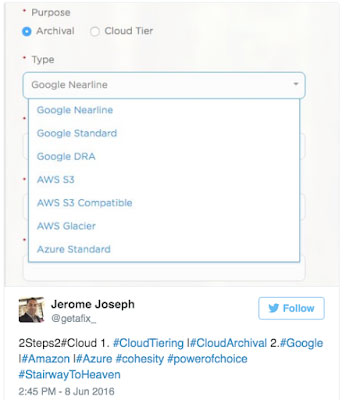 Cohesity supports archival of VMs, Views(Datastore) and SQL Services.
This blog will cover
setting up a Cloud Archival for a WindowsVM
troubleshooting tips
reviewing the stats.
Setting up a Amazon S3 cloud archival on Cohesity:
Configure a External Target
Add the external target to an existing or a new backup policy
After the local backup is done, the snapshot will be transferred to the cloud based on the configured policy.
Here is the screenshot of a successful cloud tier archive. ( #greencloud)
And …….the archival data is in