Cohesity DataProtect 4.0 Extends Management Integration with VMware vSphere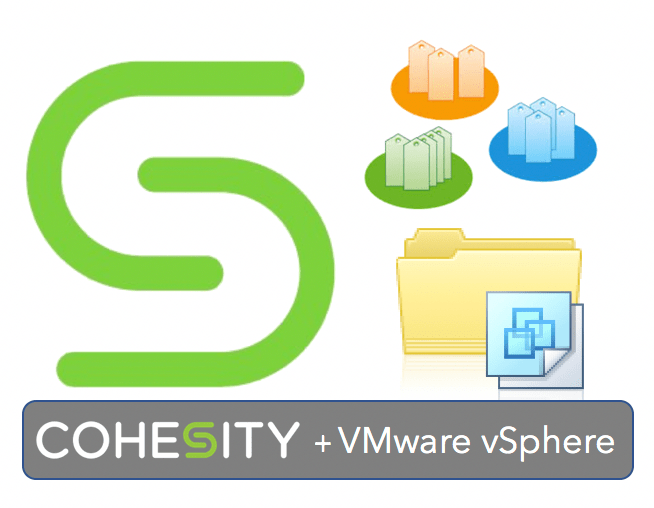 With the latest 4.0 release, Cohesity extends its management and operations integration capabilities with VMware vSphere by streamlining the already simple converged data protection and recovery operating model. Cohesity 4.0 introduces support for VM Folders and Tags.
vCenter Server provides Infrastructure admins with a set of logical constructs that can be utilized to logically organize and manage critical virtual infrastructure artifacts such as VM Folders and Tags. As an efficient management methodology, vSphere admins have grown accustomed to organizing and managing the virtual infrastructure by using VM Folders. VM Folders are typically used to group virtual machines of the same characteristics for easier management. With VM Folders vSphere admins can centrally manage virtual machine access permissions, perform batch operations such as power-on, power-off, set permissions, access, etc.
The VM Folder operational model is native to vSphere, and it is a model that is widely adopted and utilized by vSphere admins in the enterprise. Starting with Cohesity 4.0 vSphere admins can begin to use VM Folders as a logical construct to group virtual machines for data protection purposes. In Cohesity 4.0, vSphere admins can create protection jobs that are mapped directly to the VM Folders as the protected objects. Because of this capability, the VM Folder will serve as a parent object which will automatically and dynamically propagate the protection, recovery settings, and characteristics to any virtual machine that it is stored in a protected folder.
The folder hierarchy view in the Cohesity cluster UI can natively enumerate all the folder objects that are registered in the vCenter Server catalog. This makes the infrastructure management and operations safer, easier, and conducive to the natural ways in which vSphere infrastructures are organized and managed.

Figure 1: VM Folder Management: vSphere – Cohesity
Tags are also supported as part of the Cohesity 4.0 release. Tags are labels that can be applied to objects in the vSphere inventory. The Tags characteristics are different from what the VM Folders are meant to accomplish. VM Folders are logical constructs that are used to contain and manage and operate virtual machines within its logical confinements. vSphere admins use Tags to attach metadata to objects and make those objects sortable and searchable throughout the entire vSphere inventory.
From a data protection perspective, vSphere admins may want to Tag virtual machines based on their business-critical application type. vSphere admins can create Tag categories and specify a Tag that based on the application running in the virtual machine.

Figure 2: VM Tag Management: vSphere – Cohesity
With Tags, virtual machines are accessible within the vSphere inventory without the confinements of a VM Folder. This management model is essentially a broader vSphere management concept, and it is fully supported by Cohesity to provide more extensive native support for data protection for VMware vSphere.
-Enjoy