Cohesity Extends DataPlatform Beyond the Enterprise Data Center with DataProtect VE
The continuous evolution of the software-defined enterprise is driving the transformation of today's data centers. Currently, software-defined solutions are being spesifically engieered to solve problems on all corners of the enterprise data centers. Some of the most daunting functions of the data center range from management, consumption, efficiency, security, data protection, and operational challenges are being mitigated by software-defined solutions for those respective domains.
Cohesity continues to push the innovation envelope by delivering a software-defined hyperconverged solution to address the data protection and data retention challenges being faced in enterprise data centers today. Earlier this week, the Cohesity DataPlatform Virtual Edition (VE) was announced. This solution provides a combination of Cohesity DataPlatform with integrated software-only backup for VMware infrastructures.
While Enterprises are grappling with the exponential data growth that includes both on-premises data centers and cloud storage, as well as remote offices and devices on the edge. This solution allows enterprises to extend the data protection values from the large data centers onto smaller and remote data centers as well as remote branch offices without compromising any aspects of their data protection and retention policies.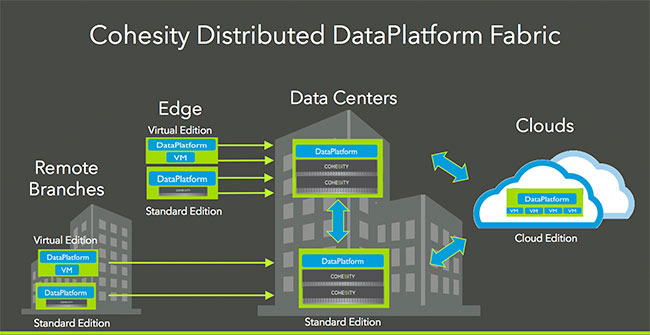 With the release of DataPlatform VE, Cohesity allows organizations to create a data fabric that spans from the edge, to the data center, and the cloud. Using DataPlatform VE, enterprises can replicate their data from the edge to the data center for disaster recovery, test/dev and analytics. DataPlatform VE is also natively integrated with all the leading public clouds, including Amazon Web Services, Microsoft Azure and Google Cloud Platform, for long-term archival.