Cohesity Pitches in to the Folding@home Project
The last couple of weeks have been tough for all of us. As a full-time work-from-home employee my struggles have been different. I never had so many "noise" distractions popping up on devices all over my desk. We're bombarded with social media and news reports, as well as just figuring out how we are going to cope as the days and weeks go on. We've all had to adjust, and I found myself feeling powerless and falling into a bit of a funk. I also worry about my immunocompromised parent who continues to make trips to the store, despite my best efforts to curtail his travels.
I started to wonder, in all this what can any of us really do? Then I started seeing tweets in my timeline from some friends in the VMware community about a project called Folding At Home, whose software allows you to share your unused computer power to focus on disease research.
They have been around for a while, but in recent days have spiked in popularity with the help of some folks at VMware who just released a virtual appliance via the VMware Fling program thanks to William Lam (@lamw). I woke up and decided to use this project to see how Cohesity could help. COVID-19 modeling has become one of their primary projects, but all their projects are valuable and will continue long after this passes.
My colleague Mike Letschin created a Cohesity Team ID (241525) that nobody was really using a week or so ago. I decided to poke a little at a docker version of the client on my local QNAP device and use the Cohesity Team ID. Once I got it working locally, I contacted Mike and Matt Langguth on my team and pitched an idea.
The Cohesity Technical Advocacy Group (TAG), operates what is internally known as "Customer Zero."  It's a large customer-like deployment of hardware and software that is generally used for internal validation as well as running the live demos for trade shows. The full environment runs not only in our own isolated DMZ, but also includes hardware that we use as end-user clients that are located around the globe. Currently most of this has been idle due to the shift to online virtual events.  Here's a breakdown of what we had available. DMZ Data Center
12 DELL ESXi Compute Hosts (32 CPU each)

2 Physical Windows DELL Hosts (32 CPU each)
End-User Clients
15 Mac Mini's located in the US

12 Mac Mini's located in the UK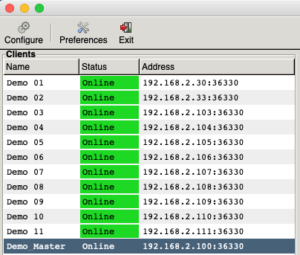 How We Proceeded
The Mac mini's were easy.  Matt Langguth and Patrick Redknap both manage the mini hardware so they configured each mini with the Mac Folding at Home Client.  They used slightly different user ID's and the same Passkey for tallying results over time.
The two physical DELL servers in the DMZ Data Center were also loaded with the native Windows Folding at Home client running as a service.  In all physical device use cases we set the folding to "Full" and on the windows hosts also added the client-type=bigadv switch.
The virtual machines were a little different.  We decided to go with William Lam's packaged Appliance and alter the settings to roll up to the Cohesity Team ID (241525).  Based on the total available CPU on a host of about 50Ghz, a worker client with 16 vCPUs running on "full" power it will basically consume 100 percent of the host's CPU. Since these workers don't all tend to run at once we also set up an anti-affinity VM rule to ensure there was only one of these virtual machines per host, resulting in 12 total worker nodes. We were able to leave the rest of our day to day validation workloads running utilizing DRS to make sure they weren't impacted.


Additionally, with the help from the application developer who was very responsive to some messages we sent, he suggested for added security we leverage the Proxy Server settings within the application.  This simply allows us to control the application's server connections through a single egress point all at once.
Our Results So Far?
Since starting this little side project on March 19th through this morning (March 24th) we jumped from 14 worker units to 423 worker units and our rank of 47,000 dropped to a rank of 4479 with only 18 members.  We are internally trying to promote the team ID to others so they can jump on and contribute. I know there are many VMware employees and vCommunity folks using the VMware ID, but if you have not chosen a team yet please consider the Cohesity green team (241525) with your install of the VMware OVA or the native client.
In today's coronavirus world it's easy to feel powerless. Putting unused CPU power to help disease research feels like a step in the right direction especially when you can reallocate currently idle resources to do so.  I personally love working for a company that understands what it means to have social responsibility.