Cohesity's Journey into the Cloud at Amazon re:Invent 2016
What an amazing week with the Amazon community! After five days in Las Vegas, Cohesity came away with thousands of new friends and contacts all throughout the cloud community. From architects to storage admins to CIOs, it seemed as if anyone working within the cloud ecosystem was at AWS re:Invent.
As a sponsor, we expected to see hundreds of cloud enthusiasts. However, the crowd exceeded our expectations, and was non-stop at our booth throughout the event. Many wanted to know why a storage vendor was showcasing at a cloud event while most of our competitors were still getting over VMworld. The answer was simple: the world is moving towards cloud, and every enterprise needs strategic partners to bridge to the cloud. Whether you're 100% on-prem or just dipping your toes into the public cloud (as many enterprises are), the cloud phenomena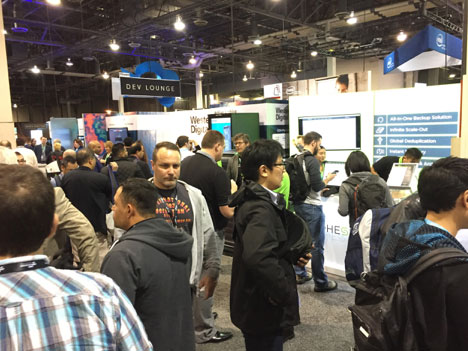 is not a fad; it's here to stay and architects/CIOs/admins all want to know what's available.
Cohesity's story is simple and comprehensive:
CloudTier – use cloud as an extension to Cohesity's built-in storage to tier the data between Cohesity cluster and the Cloud
CloudArchive – archive older local snapshots in the Cohesity cluster to cloud for long-term retention
CloudReplicate – replicate data from on-prem Cohesity cluster to a virtual Cohesity instance such as Amazon Elastic Compute Cloud (EC2). The virtual instance can be used to failover to the Cloud in the event of an outage at the local data center, or can be used to spin-up test/dev instances, or run analytic workloads.
All of this capabilities, make the cloud a virtual extension of your on-premises data center.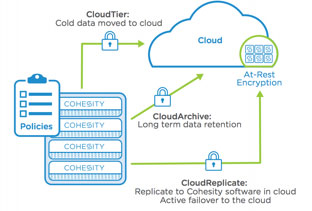 This simple/clear message was resonating with the crowd at AWS re:invent. Many enterprises are struggle to bridge complex workloads and data silos from their on-prem environment to AWS. Cohesity's platform eliminates data fragmentation and offers a seamless integration of public and private clouds; a data fabric that makes it easy to shift resources to the cloud.
As we return home to follow up on all the great conversations that were started at re:invent, we reflect on the amazing community that has welcomed Cohesity into the cloud-era. We're looking forward to further innovation and simplification of the enterprise data center!