What are the Consequences of Mass Data Fragmentation?
The first blog in this series explained how "mass data fragmentation" represents the growing proliferation of secondary data across a myriad of different locations, infrastructure silos, and management systems. Secondary data (80% of a company's data!) is non-mission critical data, with low service level agreements (SLAs), that is generated by backups, archives, file shares, object stores, test and development systems, and analytics.
Scattered secondary data is difficult to locate, manage, or leverage — a fact confirmed by our recent global market study of IT professionals. Surveyed IT professionals overwhelmingly agreed (nearly 90%!) that mass data fragmentation is a very real problem that needs to be solved as they grapple with questions such as, "How do I manage this complex web of data silos?" and "How do I glean valuable insights from all that data?"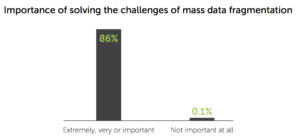 In this second installment of our series on mass data fragmentation, we will explore the potential consequences mass data fragmentation poses for enterprises, as told by IT professionals from around the world.
Consequences of Mass Data Fragmentation Gone Unaddressed
We previously discussed a key takeaway from our global market study of IT professionals: Secondary data is spiraling out of control. Respondents said secondary data continues to explode (nearly 70% expect it to increase up to 100% within a year); data fragmentation across and within silos is making management much harder (more than a third use 6 or more solutions to manage it all, but that's not even scratching the surface); and they need more IT resources (97% will spend more money to effectively manage all of their secondary data and apps).

The question of the day becomes: What will happen if we don't fix the mass data fragmentation problem? Let's probe that further.
Among those who stated they believe their data is fragmented across silos:
Nearly half (49%) said mass data fragmentation is putting their companies at a competitive disadvantage, especially if competitors can manage and extract more value from their own data sets.
47% are worried that inferior customer experiences could result from mass data fragmentation.
31% are worry their organization will not being able to monetize the value of data.
Cost concerns were also top of mind, with more than half (54%) of respondents worried about blowing the IT budget by spending too much on unnecessary storage.
Adding to that, almost one third (29%) are worried about not hitting SLAs, and as a result, losing budget or resources.
Work life balance is also at risk, with more than half (51%) admitting they are worried about working 10 or more hours of overtime to deal with the complexities of mass data fragmentation.
This is just the start.
In the age of heightened privacy concerns, compliance is top of mind as organizations wrestle with fragmented data. Over 90% of respondents said their organizations are concerned about the level of visibility the IT team has into secondary data across all sites – especially with governance policies like General Data Protection Regulation (GDPR). Non-compliance can be very expensive due to penalties, and it can jeopardize a company's reputation.

Nearly 40% of all respondents fear massive turnover on the IT team and 26% of all respondents say they or members of their team will likely consider quitting their jobs!
With these numbers, it's no surprise 43% worry the culture within the organization because expectations of IT are so high when IT staff are not set up for success to deal with mass data fragmentation complexities.
Let us not end on a negative note! On the bright side, if a solution is deployed that gives IT ways to directly tackle mass data fragmentation, the rewards for the company could be very significant. We'll be talking about what these rewards look like and potential solutions to mass data fragmentation next time. Stay tuned.