Demonstrating How Cohesity Simplifies Google Cloud Backups
During Google NEXT in San Francisco last week, the Cohesity team was fully represented with great conversations in full swing. While there, I was also honored to speak about a topic that is very important to me – data protection of cloud instances/servers.
There seems to be a false sense of security with our data in the cloud. This post is going to dive into some of my real-world challenges with data protection in the cloud, then take a look at the native backup and recovery options available within Google Cloud Platform for instances. Finally, we will wrap things up with how Cohesity simplifies data protection of GCP instances. Let's dive in!
From the Real-World
After doing technical work for many years now, the shift to the cloud has left me faced with some interesting challenges with cloud-based servers. As I share these scenarios I will remain cloud-vendor agnostic.
Scenario 1: Cloud server corrupted after windows updates, and the server didn't have a backup.
The owner of a production system created their server, but didn't realize that they needed to take an extra step back it up. The system had been online for almost a year, when the system corrupted after a round of windows updates. With no backups of the server, the only hope was a support call. After 24 + hours, support was thankfully able to successfully bring this system online. Having a production system down for that long has a huge impact.
Lessons Learned Scenario 1:

Be sure to have a workflow that ensures your system backup is being done routinely, even for cloud servers. Your data is your data, back it up!
Know your Recovery Point Objectives (RPOs) and Recovery Time Objectives (RTOs) to ensure that your backup schedule aligns with business expectations.
Scenario 2: Development was done on servers in the cloud and wasn't moved to production.
At a company I worked for, we did a lot of our development on cloud servers. One of our developers was testing some code that was expected to be disposable. When some of the code wasn't working, the decision was made to move a different direction. At that point the server and all the work was deleted. We found out a couple days later that the server instance was needed, because the direction changed and the code was needed. All the development work was needed again, but in the end it was gone.
Lessons Learned Scenario 2:

Even when you don't think that you will need some of your enterprise work any longer, keep a copy through backup!
Always be able to go back to an appropriate point in time of your data.
Google Cloud Native Backup Options
Within Google Cloud Platform there are some options for backing up instances that can be leveraged by you as the consumer of server instances. Let's now take a look at what those options are and some of the challenges at hand.
An instance can be backed up manually or scheduled in the Google console. There are a few challenges to consider with this option. One is the fact that only instances can be searched for and recovered. There is not an option for granular file-level recovery. Another challenge is the human factor when backups are taken manually. It's easy to forget or miss a step in the process. Lastly, recovery in their native offering is not self-service; meaning that users and power users cannot initiate their own recoveries.
Scripted backups. Scripting your backups with PowerShell or Google Cloud Tools is an option that many enterprises may consider. Based on my experiences with home grown scripts for important processes, at some point the team is left with a script that works, but cannot be modified due to proven fact that the script will break. The reason this happens slowly over time is that technology on the backend changes, leading to coding changes. Meanwhile, the person that wrote the script, and who understands it the best, has likely advanced in their career and is no longer supporting the scripts.
Scripted options often start out great, but they often lack critical elements to the process or will not be reliable over time.
How Cohesity Simplifies Protection of GCP Instances
Cohesity has two solutions for protecting GCP instances. Google Cloud Edition and the new Backup as a Service (BaaS) service options launched at Google NEXT! Here are a few of the key benefits of each to help you determine which will be best for your enterprise.
Google Cloud Edition
If you are familiar with Cohesity solutions you will find that this functions much like our on-premises option, and our other cloud editions. In this case, essentially you install cloud edition into your Google Cloud Platform. Some of the key benefits include:
Google-like search capabilities
Single pane of glass for backup and recoveries
Deduplication and compression of backup-data ensure that you are not paying too much for the storage you need for your backups.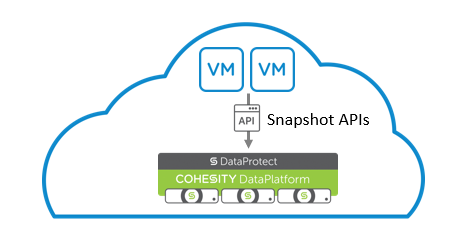 Figure 1 shows how Cohesity Cloud Edition can backup cloud instances.
Google Backup as a Service (BaaS)
Our new Google Backup as a Service is available directly to you through the Google Marketplace. Some key benefits to your backups include:
Instance level and file level search and data recovery
Improved backup and recovery performance over GCP Native options
Purchase through the Google Marketplace, and receive a single bill from Google Cloud
Seamlessly integrate into Google Cloud through native Google APIs

Figure 2 depicts how Cohesity Backup as a Service (BaaS) can backup Google Instances through the Google Marketplace.
Final Thoughts
When it comes to your server instances, the unexpected can happen at any time. Will you be prepared? Your data is your data no matter where it is located. Back it up!