How We Won and Gave Up the Best of VMworld Gold Award in a Single Week
You may have noticed that last week at VMworld 2016, TechTarget announced Cohesity as the Gold winner of the Data Protection category, for the prestigious Best of VMworld competition, which was proudly displayed on our booth and on the TechTarget website.
You may have been equally mystified to see that three days later, Cohesity was no longer on the list, and the previous runner-up for the award, StorageCraft, was subsequently elevated to the Gold winner.
It's a story that is worth sharing, and will hopefully serve as a lesson to future applicants for this notable and preeminent award. The bottom line is that Cohesity initially won in the eyes of the judges based on technical merit, but was subsequently disqualified due to a contest rule that we accidently overlooked. Here's the intriguing story behind this change.
In July this summer, we entered our latest product, DataProtect 3.0 into the contest along with 145 other technology companies eager to compete for a place at the podium. The independent judges evaluated each submission ahead of the show, made visits to applicant booths during the show, and selected winners based on the most innovative new products of 2016.
Cohesity was the initial Gold Winner in the Data Protection Category announced on Tuesday August 30th.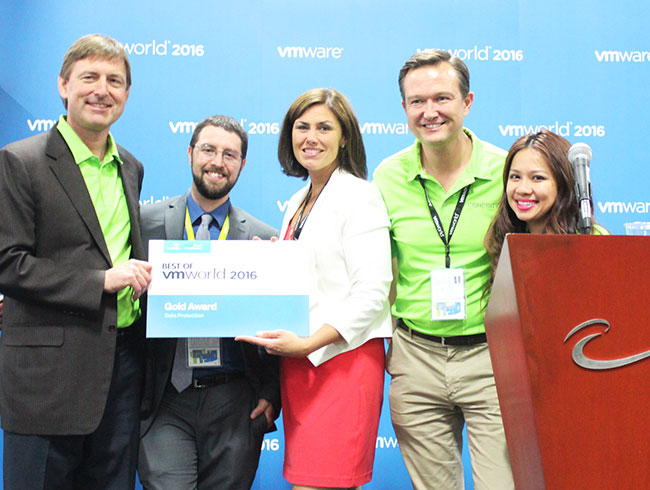 Alas, our kind and gracious hosts at TechTarget informed us that products that are not Generally Available (GA) by Sept 1st cannot be eligible for awards. Unfortunately, DataProtect 3.0 missed the GA requirement by several weeks.
After much teeth-gnashing and bellybutton-gazing, we retracted our submission, and vowed to do a better job of reading the contest rules for next year.
Nevertheless, we are proud to have participated in this year's event, and graciously concede the award to our worthy peer, StorageCraft.
We also appreciate the diligence of the TechTarget editorial team who demonstrated steadfast integrity in managing this year's awards. They ensure the award rules are followed scrupulously. I can personally attest!
We now await VMworld 2017 to once again throw down the gauntlet and compete once again on our product merits. Thanks to all those who've sent supportive emails already. This story has many more chapters yet to written.
And in the meantime, if you're interested in the truly best product to manage VMware data protection, we're here. www.cohesity.com.