Zero-RPO: Continuous Data Protection with Cohesity
In the modern age of digital transformation, businesses, customers and partners expect always-on services and 24/7 IT operations, while ensuring that IT is meeting compliance requirements. Constantly evolving cyber threats like ransomware attacks further complicate how enterprises protect and predictably recover their mission-critical data, with minimal downtime. 
To address these demanding requirements, Cohesity's architecture uniquely allows enterprises to recover hundreds of VMs instantly, something we refer to as instant mass restore. This capability empowers enterprises globally to meet their recovery SLAs. Now, with the introduction of Continuous Data Protection (CDP), enterprises will be able to recover all their mission-critical VMs from any point in time, seconds before the disaster struck. Enterprises can achieve their business SLAs predictably with:  
The ability to achieve near zero-RPO and restore the latest version or any point in time

A fully integrated solution with no bolt-on adjacent product or policies to manage

Simplified operations that complements the existing backup policies

Backed up data that can be replicated and archived
So let's walk through the workflow. Once a VM is enabled for CDP for VMware VMs on Cohesity:  
Cohesity would install an I/O filter driver on each ESX host that would have a VM protected under CDP

Using vSphere APIs for I/O filtering, Cohesity filter driver traps the I/O between the protected VM and its underlying storage and sends a copy of the I/O to Cohesity

 Cohesity maintains a journal of all I/O received from the VM and uses them to recreate a restorable image for any point in time

VMs backed up with CDP can also be replicated to another Cohesity cluster
Here's the simple two-set CDP configuration process:  
Create a policy with CDP enabled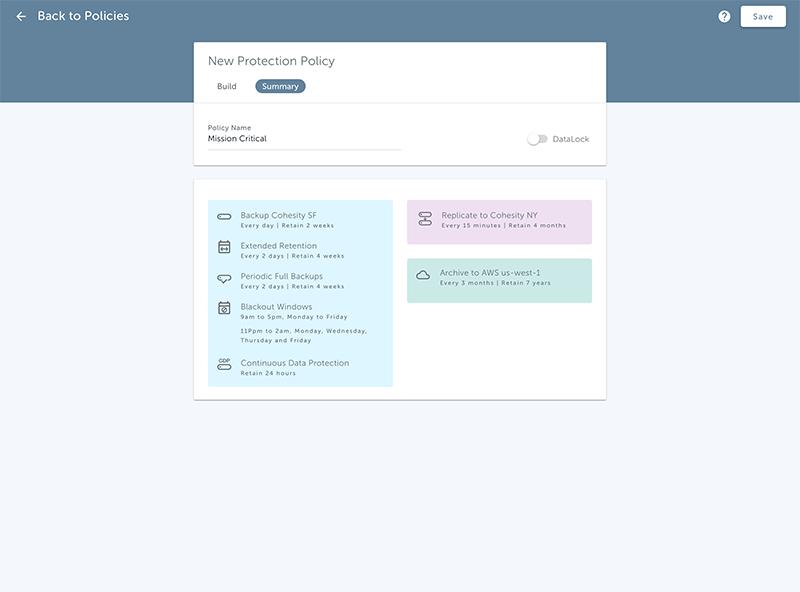 Create a protection group for VMs to be protected with CDP and apply the CDP policy
CDP dashboard provides meaningful insights like data ingested over time and health of the I/O filter driver on the source.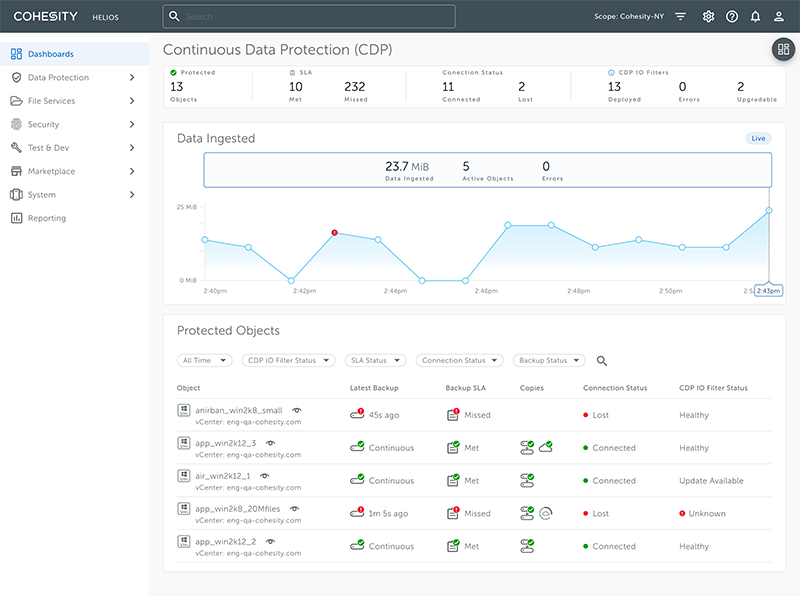 Predictable Recovery: Simply start with a global search for the object to recover and choose the latest of any suitable point in time for recovery.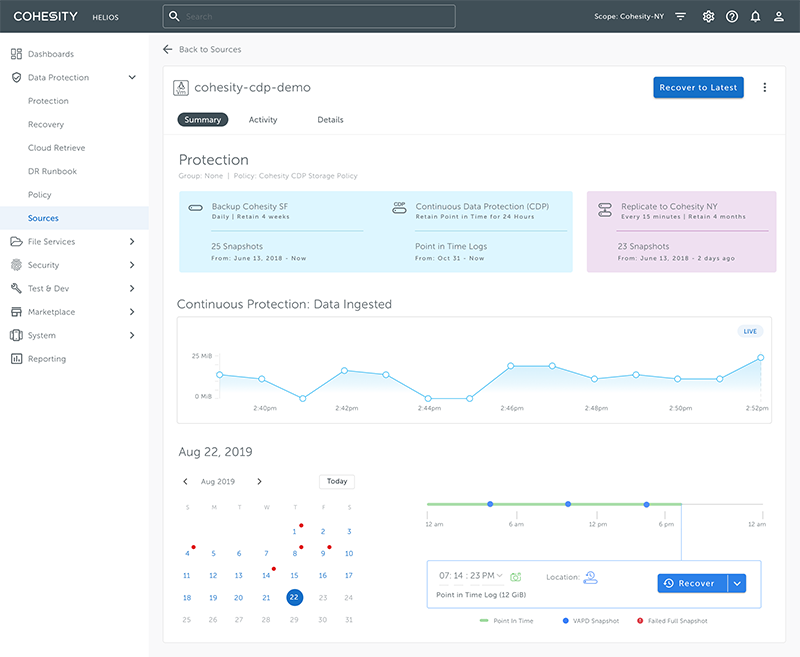 Continuous backup and replication are essential for mission-critical VMs. Cohesity  delivers a fully integrated simple-to-use solution that complements the existing solution for protecting VMs along with all the benefits provided for regular backups.