See How the Next Generation of Cohesians Got Their Start
At Cohesity, we believe that the next generation of talent will help us change the world. Every year we welcome emerging tech and business professionals—from varied and diverse backgrounds—to Cohesity.
Whether we're spending the summer with college interns from some of the best schools in North America,  or hiring the best and brightest new college grads (NCGs) out of the IITs to join our Bangalore and Pune teams, we're all about creating a compelling and engaging experience.
In 2019, Cohesity India, made its debut at the premier institutes by hiring 27 new graduates—making it one of our most successful campus hiring seasons so far.  As we welcome these new professionals to Cohesity, we make a commitment to their development so they can quickly become strong and confident contributors.
An important part of that commitment is the New College Grad (NCG) Bootcamp Program. Designed and conducted under Kumar Gaurav, Director of Engineering,  the bootcamp jump-starts their learning and gives the new grads exposure to our technology, tools,  our culture, and to members of our talented team.  It's also all about building relationships and coming together for fun team building activities.
Felwin Rodrigues from the Recruiting Team played a key role in orchestrating the 2019 bootcamp, and divided the program into three distinct tracks: induction, tech, and project.
Induction track teaches Cohesity culture, develop soft skills, and also build a sense of camaraderie. Recruitment, Finance, IT, and Facilities teams gave a brief overview about Cohesity's values, culture, benefits, policies. Working sessions included design thinking, effective presentation skills, built-to-last culture, career management, and regular fun activities and outings.
"Be Humble. Keep Learning" is a cultural guideline that our Founder and CEO Mohit Aron strongly believes in. It underlines the bootcamp curriculum, we do at work,  and what we do outside of work as well.
The Tech track is all about gaining knowledge specific to our industry and Cohesity. Many technology experts and Cohesity leaders joined as session speakers to share their insights and expertise.
The Project track is the crucial assignment phase, where our NCGs solve a business problem articulated by our Chief Architect, Apurv Gupta. This phase includes getting hands on with the code, exploring Cohesity tools, and going through code review with a seasoned Cohesity engineer.
Jai Agarwal, a 2019 NCG was very grateful for his Cohesity experience:
"Cohesity's NCG Bootcamp was fun and enriching, and probably one of the most intense but gratifying experiences in my life. The days were full of a variety of talks, work, and fun team activities. The other NCGs made the experience even more fun, and I think the Bootcamp was the perfect way to establish some level of comfort to the newcomers in Cohesity. Thanks to Team Cohesity!"
College Students at Cohesity's  San Jose Campus:
Cohesity's India location wasn't the only office to take on interns and NCGs. The HQ office in San Jose as well as our Toronto location also joined in on the fun.
Cohesity's San Jose office hired  23 bright, young interns to support the US and  Canada.  Our 2019 interns came from  Harvard, Stanford, Berkeley, Columbia, Cornell, USC, Waterloo, University of Toronto, and McMaster. These brilliant young minds brought their talent and passion to Cohesity, along with their ping pong and Xbox skills.
The 2019 summer interns ranged across all orgs, including Engineering, Product Management, Legal, and Marketing. Not only did the interns have an invaluable experience but they built strong bonds and made lasting memories along the way.
Chanel Perrone, the leader, and organizer for the North America intern and NCG program received great praise from this year's intern class for the compelling experience she created and delivered. The interns had the opportunity not only to bond as a group but also to learn about and build relationships with future co-workers and managers.
Zitao Zheng, an intern from Cornell stated, "Outside work, our recruiter Chanel provided us with a lot of activities to enhance our experience here. In those activities I had the chance to talk to interns and full-time employees and built great relationships with them."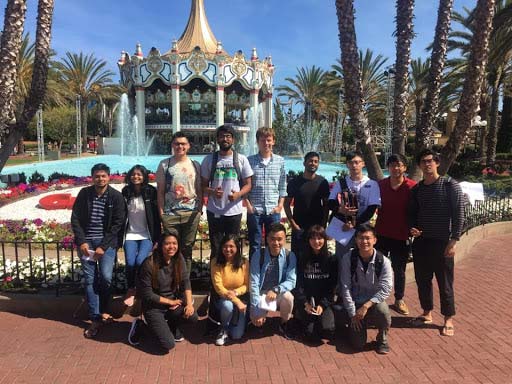 The Engineering team at Cohesity is empowered to be innovative and the ultimate goal of our intern program is to ensure that interns are  making an impact and are  working on something that they are passionate about. Interns hired by Engineering had a direct 1:1 mentorship with a member of our Engineering team to provide them with the support necessary to be successful during their time with Cohesity. The interns personally selected highly impactful projects and had direct access to production code, which ultimately became features in our product.  One of our interns even developed an essential feature that is going live in the next release.
Group activities made bonding easy for the interns. Highlights included a sushi-making class, bowling, a trip to the Great America Theme Park, and indoor skydiving.  These activities allowed the interns to deepen their relationships and really learn how to be a team. Collaboration is a key cultural tenet that Cohesity encourages— seeing our interns follow that same principle is encouraging for Cohesity's future.
This year, many full-time jobs and return internships were offered to our dedicated young minds who spent the summer with Cohesity.  They liked it so much, they came back.
Come join us next summer:  apply to our intern or NCG program!