Cohesity NAS Data Protection
Enterprise Network Attached Storage (NAS) over SMB, CIFS and NFS continues to be a large portion of storage capacity. Much of the data is contained within unstructured volumes and directories for use cases like home and departmental data shares, archives and various application stores.
This important data requires a storage efficient platform to ensure scalable data protection. Cohesity's DataPlatform and DataProtect software now includes NAS Data Protection that provides a web-scale, hyper-converged secondary storage platform that addresses all of these needs.
The NAS Data Protection software provides full data protection that can backup and restore volumes and files that reside on SMB/CIFS and NFS shares. Extended functionality is also available for primary storage systems from NetApp, EMC and Pure that includes advanced snapshot management of the primary systems. A Solution Brief can be found here that describes the key benefits and capabilities of the NAS Data Protection features here: .
The NAS Data Protection software is integrated into Cohesity's simple UI as another data source type and uses the same policy-driven data protection engine throughout the platform.
Here is a screenshot of the source registration page to register a generic NAS share share that utilizes NFS: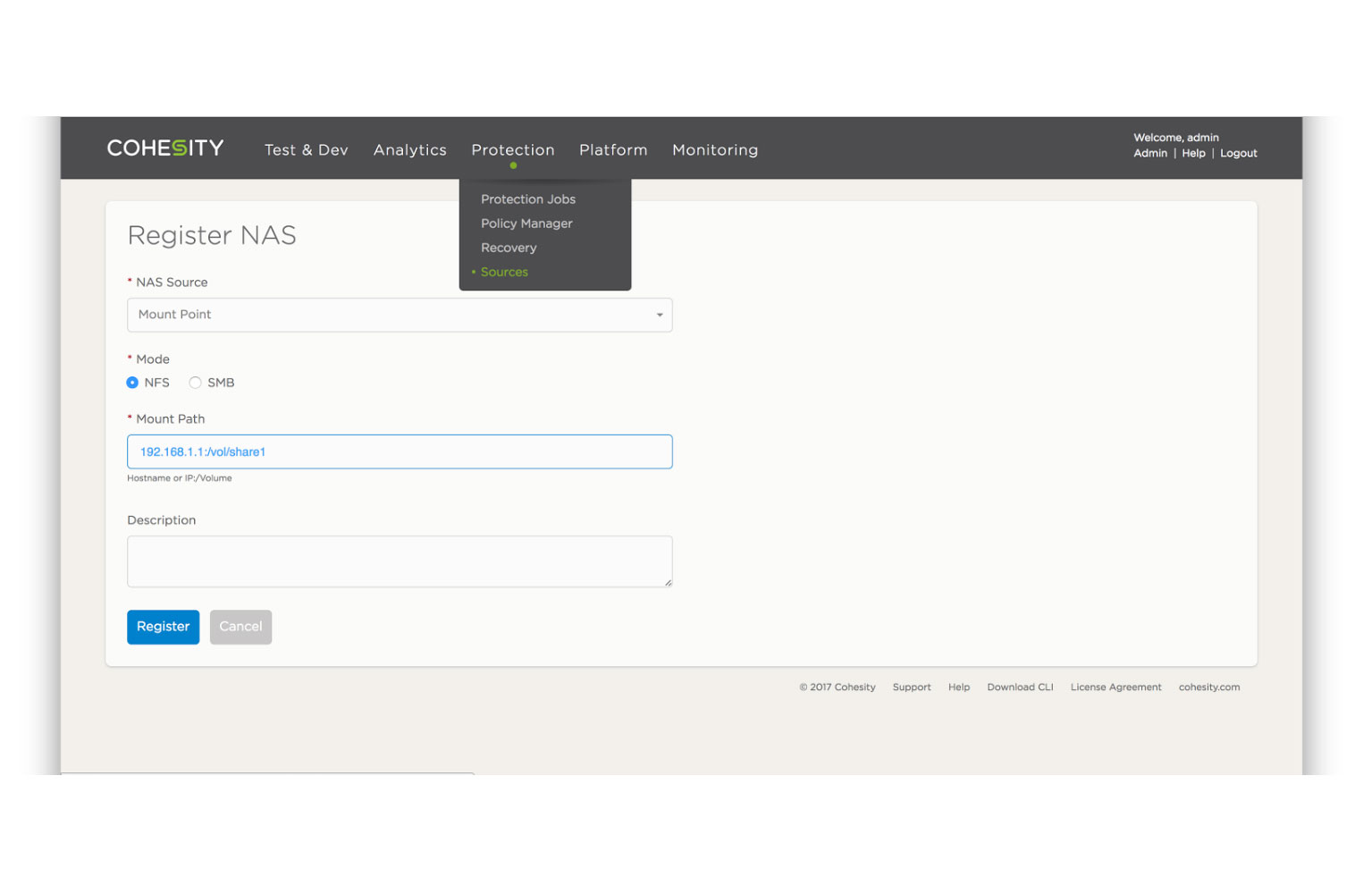 This screen provides the ability to set the mount point's IP address or hostname and path as well as a description.
SMB/CIFS shares are similarly registered by specifying a share name and Windows credentials:
As mentioned before, Cohesity also provides special integration with NetApp, EMC and Pure primary storage systems, in this case a NetApp system:
Once registered, data protection policies can be defined and associated with the volumes discovered on the NAS hosts: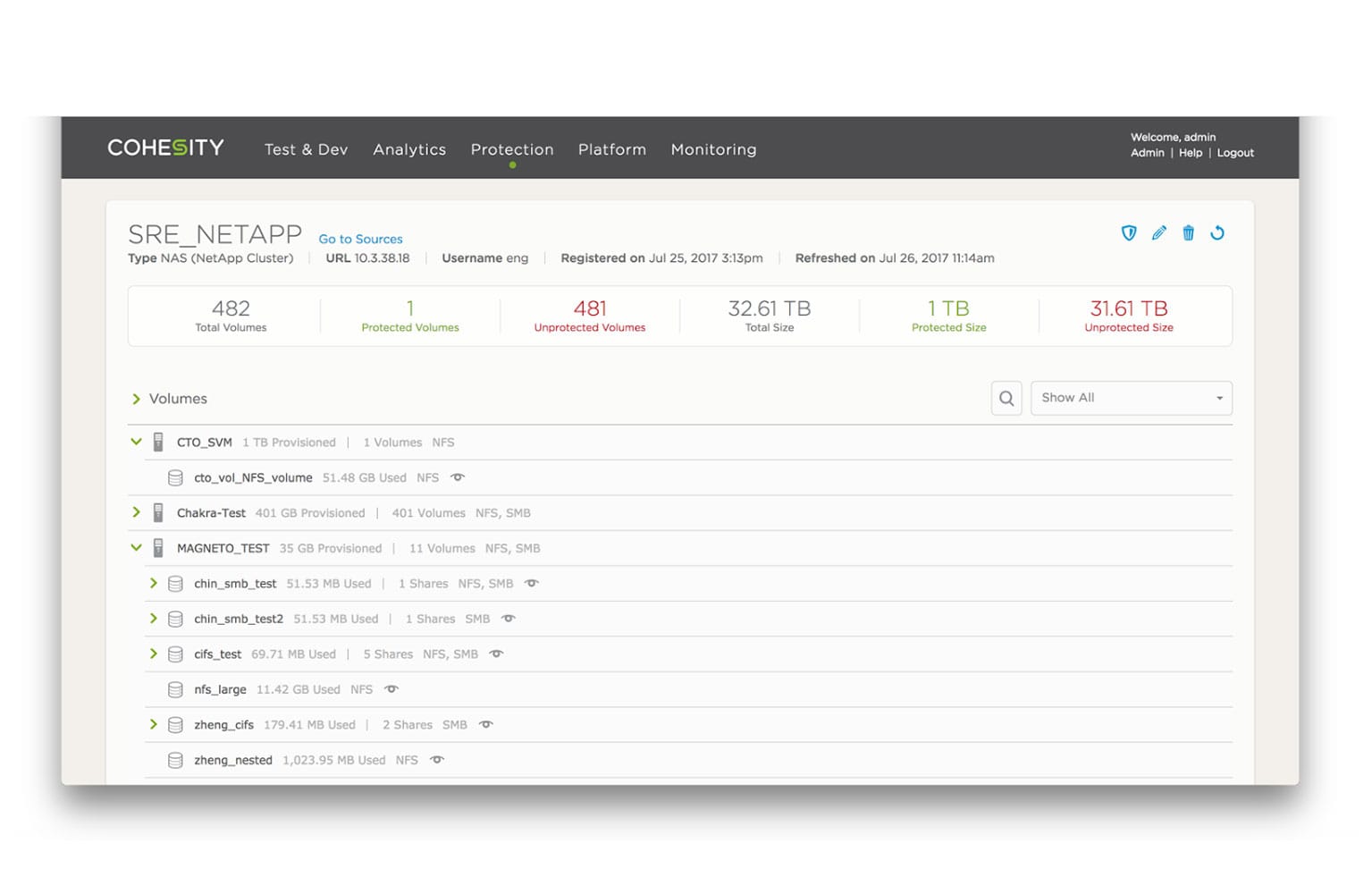 From there, the standard Cohesity workflows can be used to create and define data protection policies and assign them to specific volumes that set backup frequency, retention and replication attributes: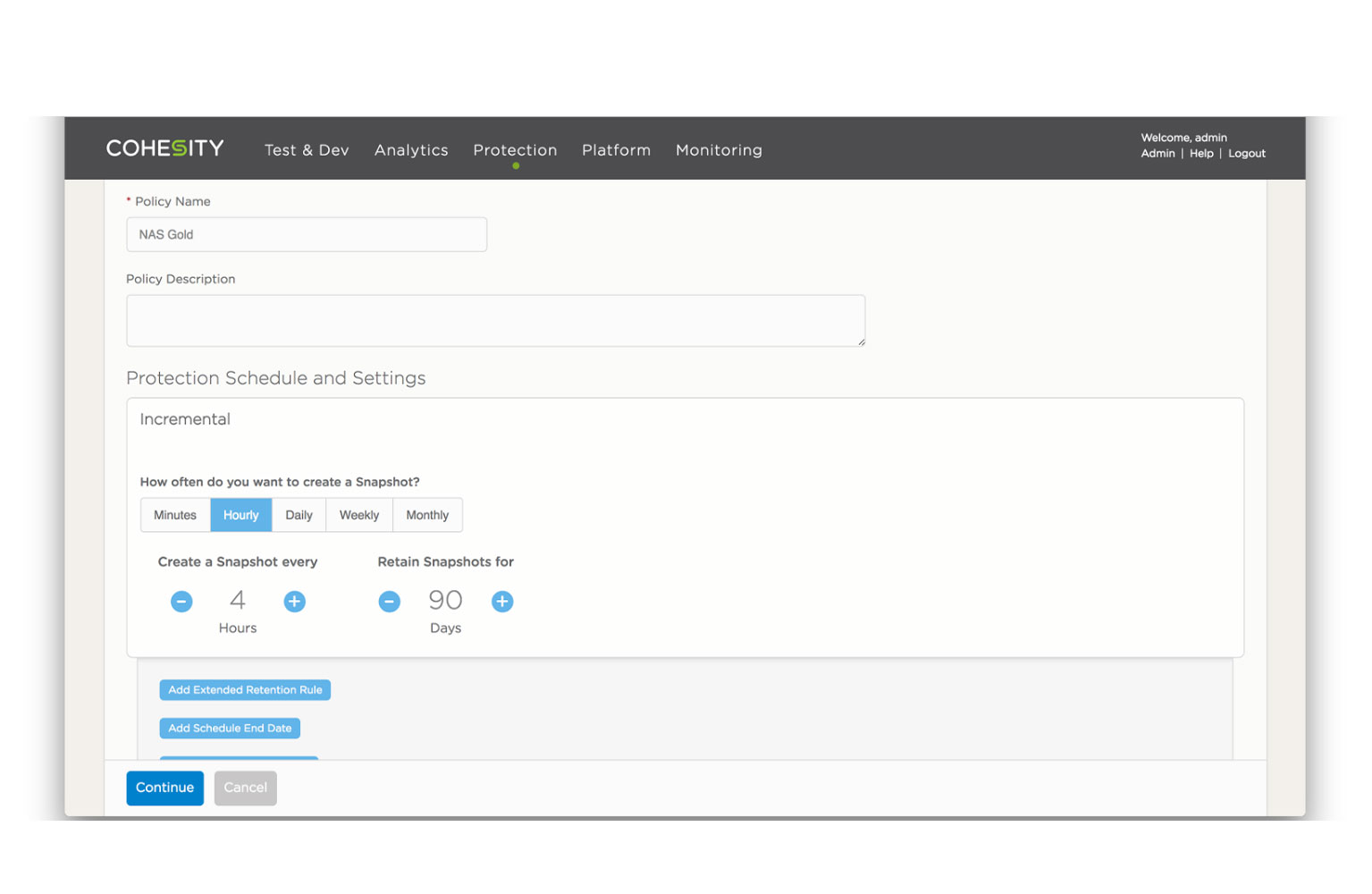 The NAS Data Protection jobs are run based upon the job schedule and all activity is logged for administrator review: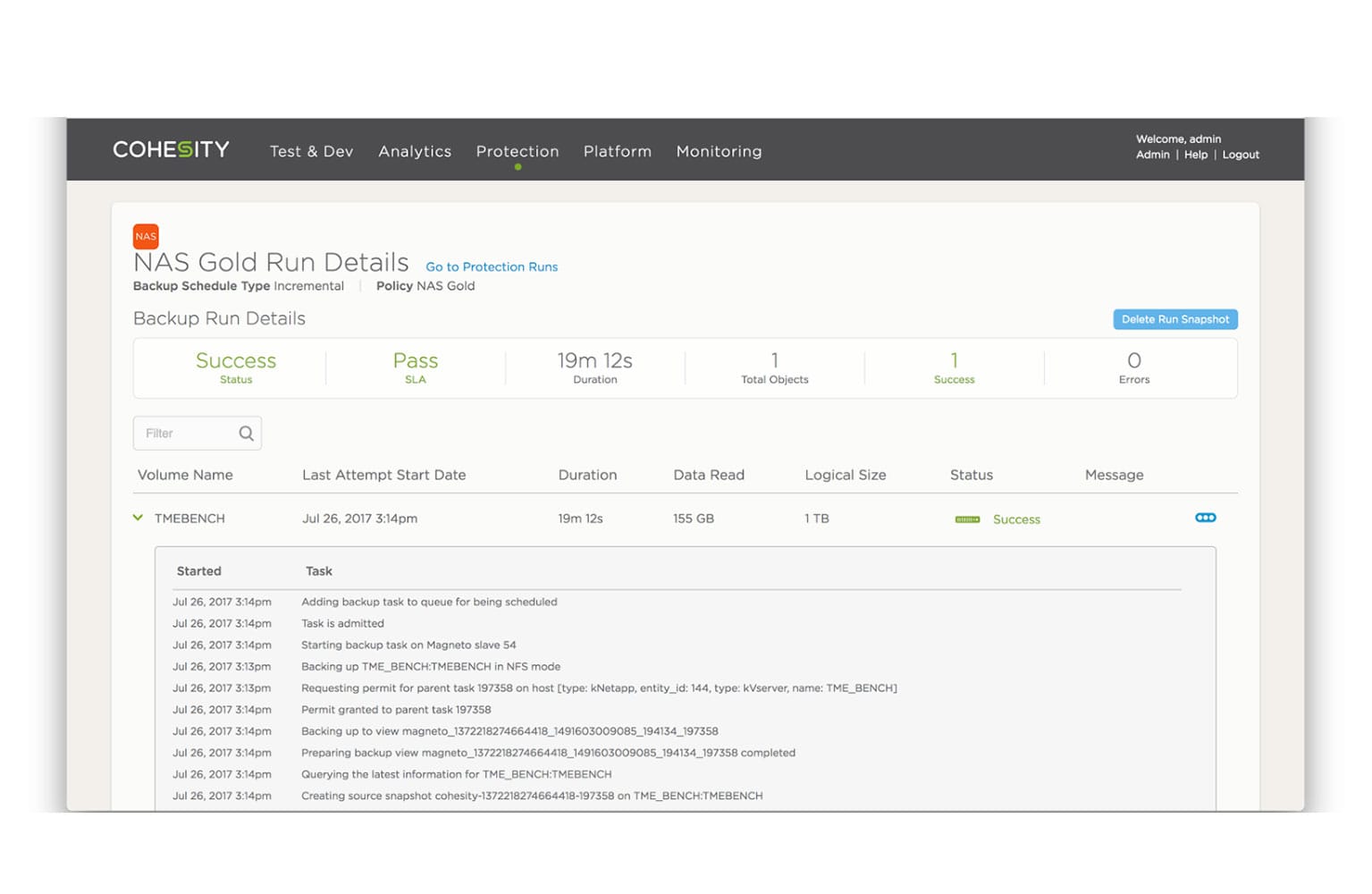 This is where the Cohesity's storage efficient, incremental-forever NAS data protection strategy can be seen: The first backup of the volume noted that 1TB of storage had been provisioned however only 155GB of data had to be read to backup the volume. After the first backup, only the changed files will be discovered, transferred and stored as a new snapshot in the Cohesity cluster. This efficiency is further enhanced by global deduplication across all nodes and compression.
Perhaps the most impressive feature of Cohesity's NAS data protection is the ability to instantly restore and mount NAS volumes for full volume or single file recovery.
Recovery is as simple as choosing Cohesity's recovery workflow and entering search terms for the volume from which to recover: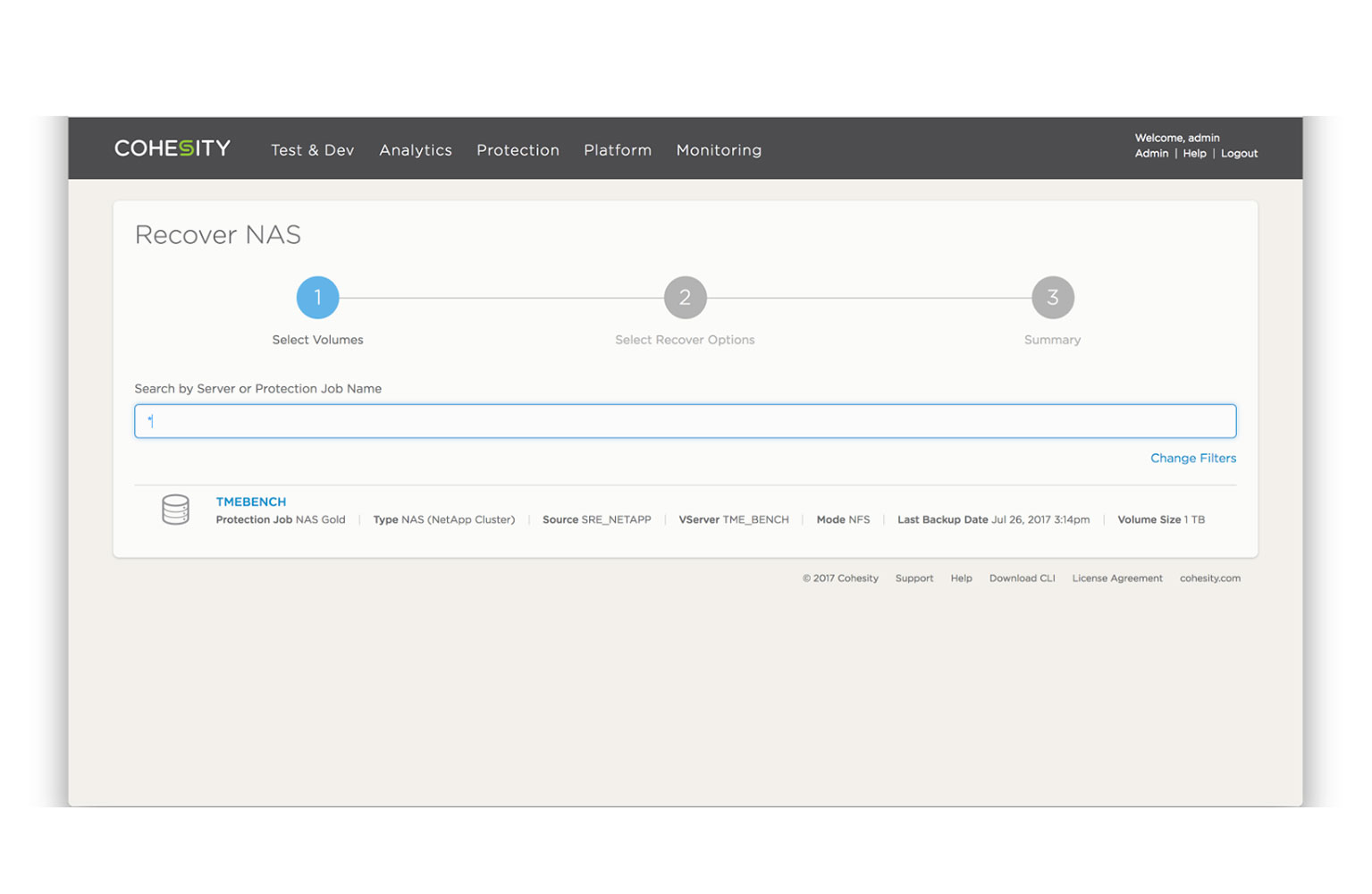 Choose the point-in-time snapshot to recover from: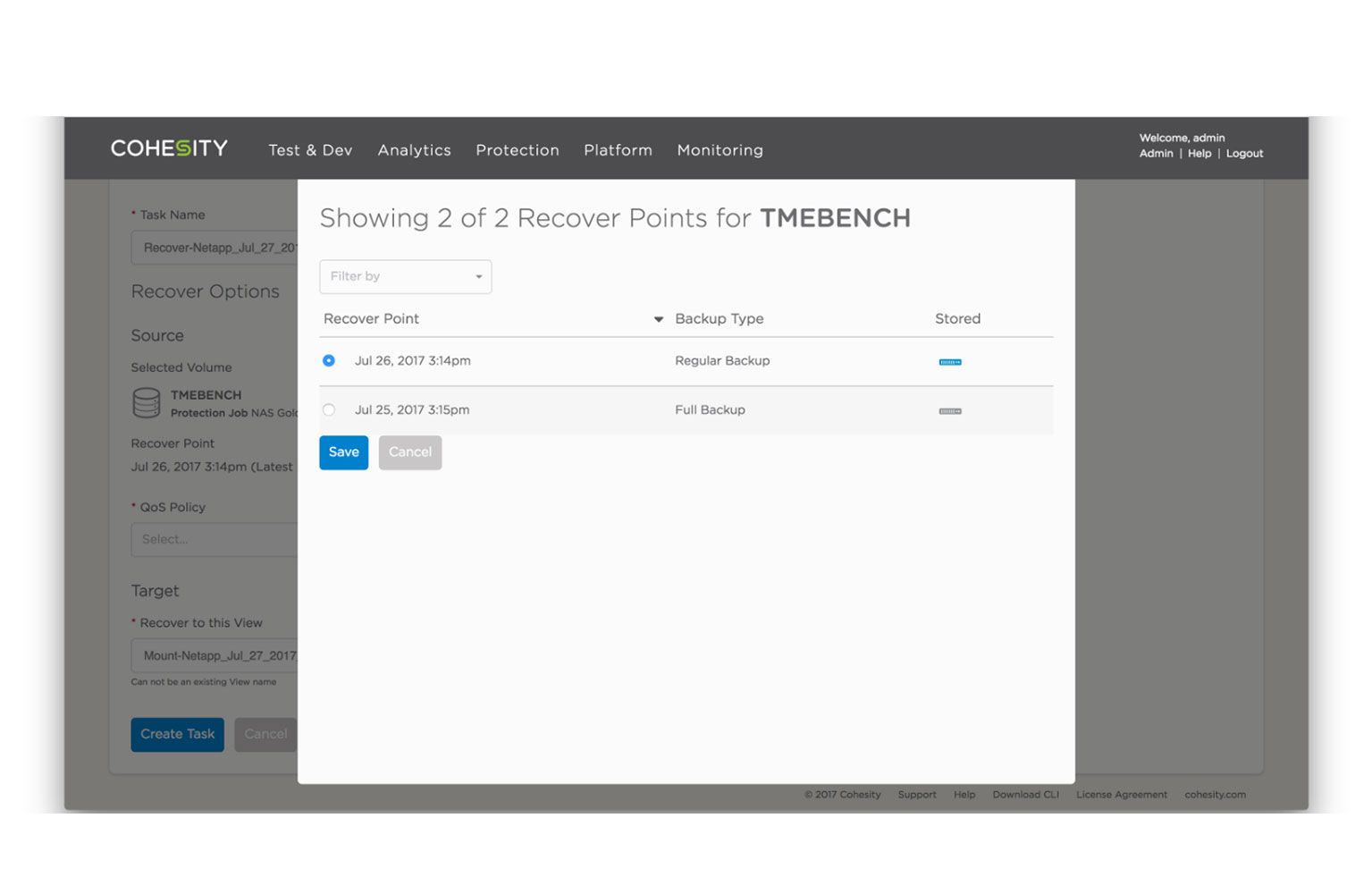 And finally apply a QoS policy to the cloned view that you wish to mount: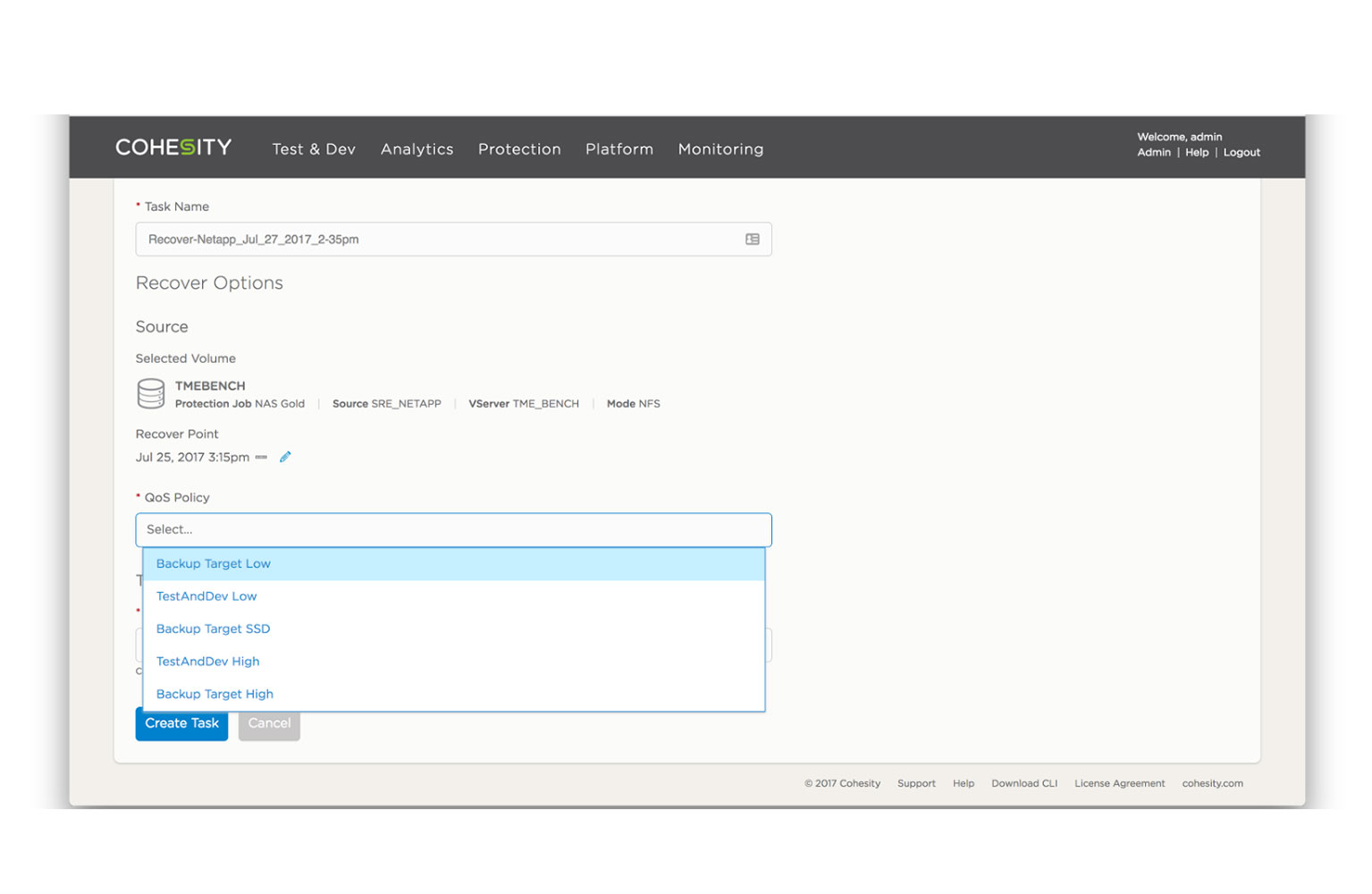 In less than one second, a cloned copy of the snapshot is made available via both NFS and SMB protocols that can be mounted, searched and restored from: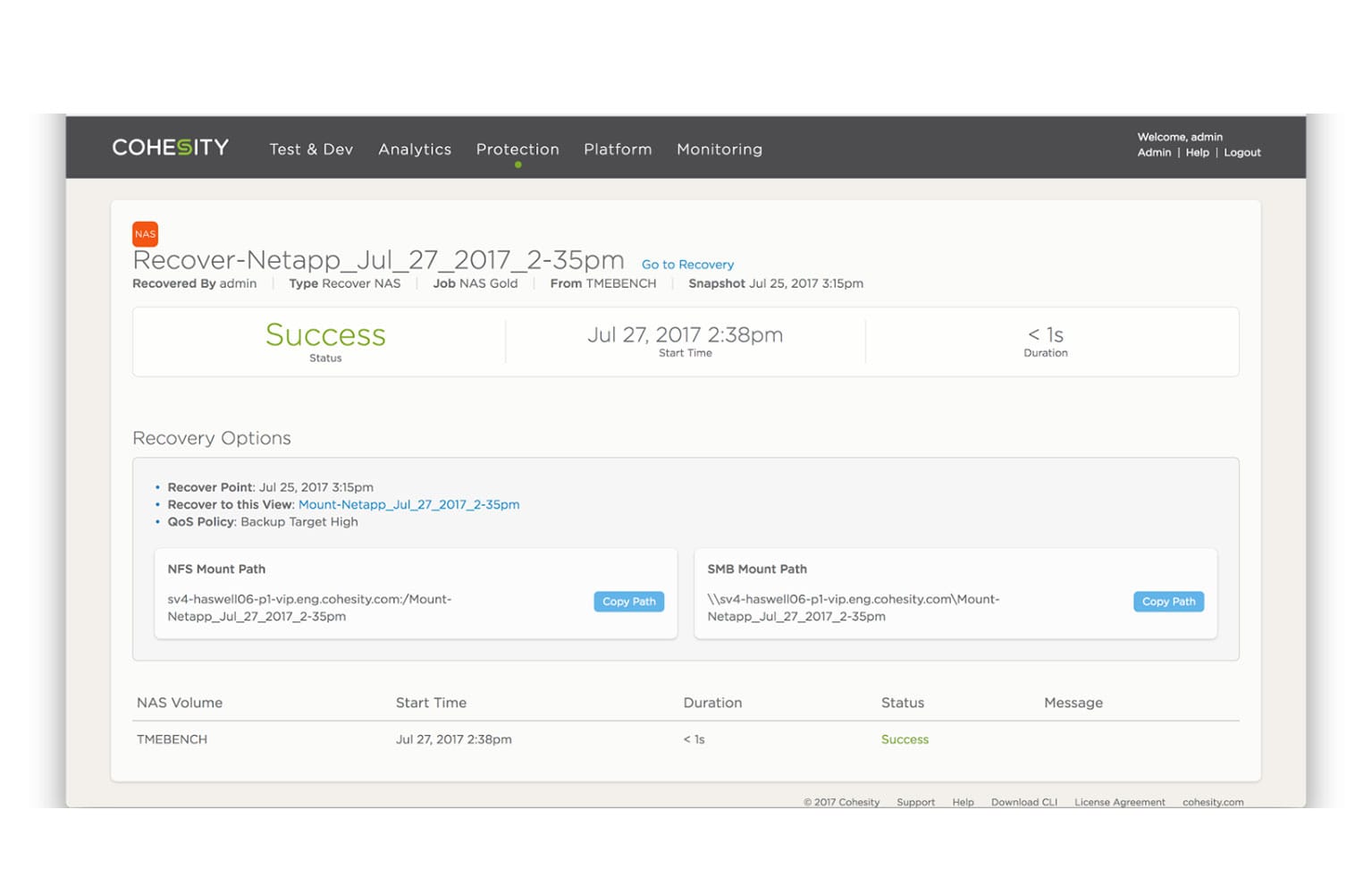 Cohesity's NAS Data Protection offering now brings all of the benefits of a highly-available, hyperconverged platform with global dedupe, compression and integrated data protection to a multitude of NAS storage devices.