Learn how customers are using Cohesity Cloud Edition on AWS
Enterprises are increasingly using the benefits of cloud infrastructure for secondary storage use cases that traditionally ran on-premises. When it comes to secondary data, a hybrid architecture can help customers get the most out of their on-premises data centers and public cloud services such as AWS (Amazon Web Services).
Here at Cohesity, we understand this challenge very well. We recognized the role the public cloud would play early on, and we have consistently delivered capabilities in the platform to make the public cloud interoperable with the existing on-premises infrastructure of customers.
Today, we are excited to announce Cohesity DataPlatform Cloud Edition (CE) on AWS as another step forward towards helping customers establish a hybrid architecture.
With AWS CE, the DataPlatform elements now run in the cloud by leveraging the IaaS compute resources. A CE cluster can be created and scaled up or down as needed. And all of the platform features such as deduplication, compression, and encryption are all available in the cloud.
What are the key use cases for Cohesity Cloud Edition on AWS? Below are the top 3 we see:
a) Recover VMs in AWS for test/dev: Customers can replicate data from on-premises and recover virtual machines (VMs) in the cloud. This can be used to provision test/dev instances for developers.
b) Direct Backup of on-premises infrastructure: Customers can back up on-premises applications, and send backup data directly to AWS without the need for a local Cohesity cluster.
c) Enable DR failover and failback: Customers recover VMs in the cloud and enable cloud-based DR.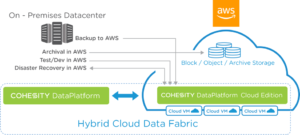 How customers are using Cohesity on AWS
Cloud Edition extends the existing capabilities that enable customers to archive or tier their on-premises data directly to the AWS cloud.
Customers like University of Pennsylvania and Shutterstock have been able to realize significant cost savings and modernize their secondary storage architecture with a truly distributed web-scale platform. With the introduction of these new capabilities, customers can tap into a hybrid cloud data fabric that they can utilize to support multiple use cases including backup, archival, disaster recovery and test/dev.
There's more to talk about, so please tune in for our webinar on December 5 at 11 AM PST to learn more about Cohesity Cloud Edition on the AWS cloud and see it in action!
Register here today.