Welcome to Cohesity, Mark Parrinello!
Cohesity is pleased to announce and welcome Mark Parrinello as Vice President of Worldwide Sales.
Mark will lead Cohesity's global sales team to accelerate the record-breaking growth the company experienced in 2016 and developing new business opportunities. Parrinello comes to Cohesity with a deep experience in building large-scale enterprise sales organizations for companies like Nimble storage, NetApp, and CA Technologies and Kovarus Technology Solutions. Parrinello's passion and strong winning attitude will enhance Cohesity's ability to meet the needs of our customers as we continue to grow our world-class sales teams.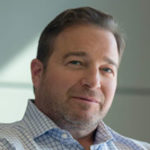 "I have a passion for the people aspects of the business. Inspiring people to do more. Career developing. Creating a strong bench of future leaders and building great teams that collaborate, care for one another and charge the hill as one team."
– Mark Parrinello
Welcome aboard, Mark! We are lucky to have you!