Snazzy New Tech, a CEO's Reading List, and a Fun Family Night-In at VMworld 2020
While we're generally hard at work cementing our leadership in enterprise data management, we also take our responsibilities of throwing legendary VMworld parties very seriously. And given most of us are attending VMworld from our homes this time around, we thought to host a party that would make for a nice, wholesome evening for the family.
But First, New Innovations!
Since VMworld 2019, Cohesity has been bestowed with glowing plaudits, awards, and recognition from customers, leading analysts, and technology reviewers, and we fully intend to continue to accelerate our innovation momentum at VMworld 2020. While Cohesity already consolidates backup and recovery (VMs, k8s, physical, databases, SaaS), scale out NAS, and dev/test environments, we are going to introduce a whole new solution category that runs on the same reliable software platform, managed by the slick UI of Helios. Be sure to catch a preview at the Cohesity Demo Zone!
We're also super excited to announce a VMware-certified solution to back up and protect VMware Cloud Foundation. Available through the Management Tools Backup App on the Cohesity Marketplace, the solution automates backups of VMware Cloud Foundation management components using file transfer services. Compatible with VMware Cloud Foundation 4.0.1.1 and later, the app enables automated discovery and configuration of VMware NSX-T Manager, VMware SDDC Manager, and VMware vCenter, both on schedule and on-demand, and provides a secure FTP service to hold encrypted backed-up data.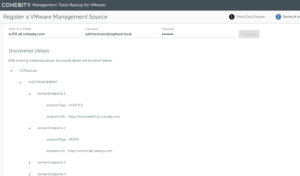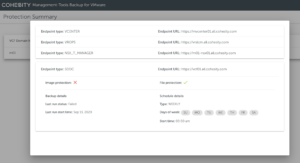 Cohesity Demo Zone and This Year's Speakers
Our virtual booth this year will feature a comprehensive set of videos and documents for VMware practitioners, cloud strategists, and architects to delve into the rapidly growing world of data management. Staffed round the clock to take your questions and stocked with exciting giveaways, the Cohesity Demo Zone is a great place to discover all that's new in data management, data protection, and data security. 
Our speaker sessions are headlined by none other than Mohit Aron, founder and CEO, Cohesity and co-founder, Nutanix. He will talk about the books that guided his entrepreneurial journey and share his picks on leadership, discipline, selling, and living with purpose. Be sure to join this session to hear from an industry stalwart on how to make time to read, and absorb and act on learnings.
Chris Colotti and Michael Letschin, both Principal Technologists at Cohesity, have a fantastic speaking session lined up as well. In this session, they will talk about a holistic approach to protecting data from the ever-growing threat of ransomware. Michael will also be leading the vExpert Daily to recap the announcements and highlights of the day, and Principal Technologists Jon Hildebrand and Theresa Miller will be leading sessions for the VMworld community through vmunderground.
Live Musical Performance for the Whole Family!
And finally, join us for a special evening sing-along that the whole family will love.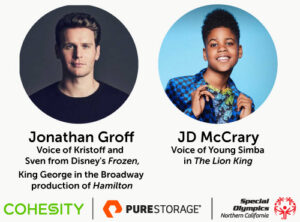 Cohesity, Pure Storage and Special Olympics Northern California bring you a virtual night out with Jonathan Groff (voice of Kristoff and Sven from Disney's Frozen and King George in the Broadway production of Hamilton) and JD McCrary (voice of Young Simba in The Lion King). You can sign up right here. 
If you are joining us from an Asia-Pacific time zone, we will be hosting a live replay of the performance on Wednesday, September 30, at 6PM SGT.
Engage with us
While we will miss the hustle and bustle of the VMworld show floor and seeing you all at our parties, we hope to make many new friends and say hi to old ones regardless. For any questions, tweet at us @cohesity, or hop into our demo zone.
Stay safe, see you at VMworld!