What is Mass Data Fragmentation
As I tap out these words, another chunk of data is being generated, and most likely stored multiple times in a dizzying array of completely fragmented secondary data silos that plague enterprises today. An estimated 80% of company data is strewn across a mass-distributed and disconnected matrix of data islands, much of it duplicate copies and nearly all of it dark – meaning there is little visibility into what it is or where it lives.
As you will see from our global survey, the problem of this mass data fragmentation isn't just conjecture. It is a very real concern for IT departments around the world, and nearly all are grappling with not only how to manage this complex web of silos, but to then do what most enterprises are dying to do — glean valuable insights from all that data. Finding out how mass data fragmentation came to be, how it negatively impacts business, and what can be done about it is essential.
We will address these three questions – and provide direct responses from IT professionals illustrating the mass data fragmentation challenge – in this three-part blog series.
What is Mass Data Fragmentation?
Mass data fragmentation refers to the huge and growing proliferation of secondary data across a myriad of different locations, infrastructure silos, and management systems. By secondary data, we mean non-mission critical data that has low service level agreements, comprises the vast majority of an organization's data, and includes things like backups, archives, file shares, object stores, test and development systems, and analytics.
Exploding data volumes and siloed, point-products have made it nearly impossible for organizations to protect or locate – let alone manage or exploit – their most important digital asset. Mass data fragmentation has become a headache for IT, largely due to lack of innovation by vendors that perpetuates an outdated, and ultimately unsustainable, approach.
So, although data has become recognized as one of the most valuable resources in the digital business era – it has also become one of the biggest barriers to digital transformation.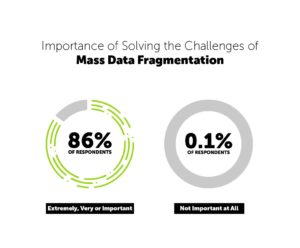 As a result, instead of treating data as a competitive asset, most organizations view it as a costly storage bill, a complex management problem, a growing compliance exposure, and even a risk to morale in IT.
Survey of IT Departments on Mass Data Fragmentation
Our recent global market study into this critical concern – Mass Data Fragmentation: The Barrier to Competing as a Data-centric Organization – underscores how mass data fragmentation is truly impacting enterprises – and IT teams within these organizations — on a global scale. We delve into this to some degree in a press release that went out today. But here are the key takeaways:
Global Survey findings:
Data continues to explode:
98% of organizations surveyed reported that their secondary storage is increasing.
Fragmentation and copies are making management harder:
Nearly nine in ten organizations believes secondary data is fragmented across silos and is, or will become, nearly impossible to manage long term. Many organizations are using between 11 and 15 solutions or more to manage their complex secondary data operations.
The problems need to be fixed:
Nearly 90% of respondents believe it's important, very important or extremely important to solve challenges of mass data fragmentation.
But current IT resources aren't enough:
Almost everyone (97%) said they would need to spend more than they are today to effectively manage all of their secondary data and apps, and it will also consume significantly more time to manage (up to 16 additional weeks per year) without more effective tools.
And that could have serious consequences:
49% believe that failing to address mass data fragmentation will put their organization at a competitive disadvantage. And over a quarter say that they, or their team, will likely quit their jobs if the IT team is expected to manage all of the organizations' secondary data and applications without the proper technology in place to do so.
Solving mass data fragmentation has a significant upside:
More than 90% say if half the amount of IT resources spent managing an organization's secondary data were redeployed to more business-critical IT actions, it could have a positive impact on the organization's revenues.
Data Drill-Down on Global Survey Results:
Increasing data volumes are not particularly surprising, but the major challenge that's quickly surfacing is mass data fragmentation:

Data is fragmented and is becoming nearly impossible to manage: Nearly 90% of companies believe secondary data is fragmented across silos and is, or will become, nearly impossible to manage long term, and of that, nearly 50% believe it is only going to get worse.
What does mass data fragmentation stem from?

Mass data fragmentation problem 1: There is fragmentation across and within silos that is perpetuated by single-purpose products used to manage backup, files, test/dev, analytics and other data islands individually

More than a third (35%) of orgs use 6 or more solutions for all of their secondary data operations and of that, 10% use between 11 to 15 or more solutions.

Mass data fragmentation problem 2: There are copies of data everywhere because limited-purpose products don't allow data sharing or reuse:

63% of organizations have between 4-15 copies of the same data.

Mass data fragmentation problem 3: Data is increasingly spread across multiple locations on-premises and in public and private clouds, often creating the need for yet more copies of the same data:

85% store data between 2-5 public clouds, and of that, nearly 20% store data in 4-5 public clouds. And of these organizations that store data in public cloud, 74% say they make an alternate or redundant copy of data stored in the public cloud, storing it either in the same public cloud or another public cloud.
In our next installment in this blog series on mass data fragmentation, we will dig deeper into the major concerns enterprises have about mass data fragmentation and the potential consequences of this growing problem.