Cohesity Instant Mass Restore: Better Solution to an Old Problem
Earlier this month Jon Hildebrand and I presented at Storage Field Day 18 here on the new sixteenth floor of the Cohesity corporate headquarters. While Jon did multiple demos that day (see his blog for a full recap with links), I'm going to focus on one that stood out to those watching the live stream. It was a live demo of Cohesity Instant Mass Restore with vSphere. I can understand why this got a lot of attention. Let's just say that while backups have been around for a long time, quick recovery has not been as common or reliable. And with less patience for backup as just an expensive insurance policy, IT teams are focusing on what more their backup solution can do for them. And the most fundamental capability is recovery! So what surprised me was the reaction from a few folks who argued what we were doing was "nothing new" and other vendors had "been doing it for years."
Now while the fundamental process of how we do it isn't new, I will argue that we do restores in a much improved and differentiated way. Let's start with the basic process of how a Cohesity Instant Mass Restore is done.
The Foundation: Cohesity SnapTree®
Let's begin by understanding every backup on a Cohesity system is a fully hydrated snapshot thanks to our patented SnapTree technology. This means that while we take "incrementals forever," each incremental is applied to the previous one in order to create a fully hydrated snapshot. What this means is we can restore to any point in time, near instantly without waiting for the incrementals to be applied in sequence. You can see the animation of this in the short video below.
The Cohesity IMR Process
The process is done in a few simple steps after you select the backup you want to restore from and make the other selections as shown below.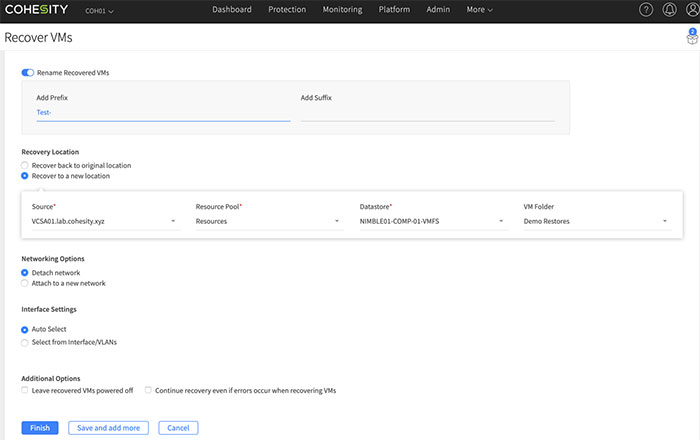 Those steps are the following:
Present NFS Datastore to ESX from Cohesity Cluste
Create new VM from the backup
Power on VM from the temporary datastore
Storage vMotion to the primary storage
Clean up temporary datastore
What makes this different than other solutions are two key steps.
First, the step of presenting storage to ESX is key because it is the storage running on the actual Cohesity Cluster. This means we can apply QoS to the storage presented. In other solutions, while they are presenting an NFS mount point, it could technically be running on anything. In most cases, files were put on some appliance other than the backup system. In my mind that means you don't have much control over the quality of service for the running virtual machine while it's back up. Instead, Cohesity uses our own filesystem to present this back to ESX. You can also optimize this with ESX networking and a separate VLAN. I will write another blog post that will cover this.
The second key difference is the 2nd to last step in the list above. Here, Cohesity completes the full process of storage vMotion to the primary storage without having the user run manual scripts or perform other steps. In short, we have radically simplified the entire process end-to-end to deliver a complete solution.
Restore instantly at scale
Due to the fact Cohesity controls both the storage presented to vSphere, and we complete the Storage vMotion process, you can easily restore from any point in time at scale. Typically we use 50-60 virtual machines to show this capability. In practice, you can scale this infinitely to recover from a massive outage in order to have your virtual machines running in very little time.
To be honest, the longest part of the process is the Storage vMotion, which in itself takes some time, but that's not something Cohesity can control. It's a technology provided by VMware that requires intensive network File Copy (NFC) processes to move the data. However, during the entire restore process, your applications are back online and you are back in business.
I hope this explains why we believe Cohesity Instant Mass Restore is a clear differentiator. It allows you to recover from anything, including ransomware attacks, with speed and efficiency. If you are a VMware customer, I'd encourage you to see Cohesity Instant Mass Restore feature in action yourself. Seeing is believing.