Cohesity's New VMware Ready for vSAN Certifications Make Data Protection and File Services Shopping Easier for Enterprises and Service Providers
Cohesity recently received Ready for vSAN certifications for the data protection and file services categories from VMware. It is great news for enterprises and service providers looking to streamline the process of choosing a hyperconverged solution for their secondary data and applications and complement their investments in hyperconverged primary solution based on VMware vSAN.
In choosing hyperconverged solutions for both primary and secondary data with certified interoperability, businesses can eliminate unnecessary infrastructure complexity and management overhead associated with legacy storage architectures, improve IT agility, and gain operational efficiency.
Being Ready for vSAN means Cohesity DataPlatform and Cohesity DataProtect have met
VMware's rigorous integration, interoperability, and quality standards. As a result, Cohesity can now proudly display the VMware Ready logo for vSAN.
Cohesity Hyperconverged Secondary Storage platform provides end-to-end data protection for an application-driven modern infrastructure that spans from edge to core to cloud. Cohesity protects virtual and physical workloads, databases, and primary storage on a single, web-scale platform that converges backup, recovery, replication, target storage, and file services, and natively supports multi-cloud integration.
Cohesity provides native file services for VMs running in the vSAN cluster at the Remote Office Branch Office (ROBO)/edge, core data centers, or in the cloud, including VMware Cloud (VMC) on AWS and leading hyperscale public clouds. Cohesity offers flexible deployment strategies for each of these topologies, that is, a VM-based solution that runs as a virtual appliance in the vSAN ROBO environments, a physical scale-out appliance for an on-premise data center, and VM in a cloud-native format for VMC environment. In addition to data protection of VMs on vSAN, Cohesity presents NFS/CIFS/S3 shares to VMs for file services.
Making Solution Shopping Easy
The VMware Ready for vSAN logo helps customers quickly identify VMware partner products and solutions that are optimized for VMware and seamlessly and reliably interoperate with vSAN. Customers can rely on Cohesity DataPlatform and Cohesity DataProtect to realize significant business value, including lower costs and agility. Cohesity consolidates multiple secondary workloads on a single, hyperconverged platform and eliminates legacy products that create silos and mass data fragmentation.
In addition, Cohesity solutions for data protection and file services are now showcased on both the VMware Compatibility Guide (VCG) and the VMware Solution Exchange (VSX).
---
The VMware Compatibility Guide is an online reference site hosted by VMware that shows what various hardware, converged systems, operating systems, third-party applications, and VMware products are compatible with a specific version of a VMware software product.

The VMware Solution Exchange is VMware's ecosystem marketplace – a central location where customers can research, evaluate, and rate more than 2,500 solutions from VMware technology partners, systems integrators, and developers.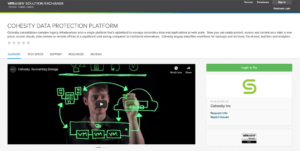 ---
VMware customers can simply browse these portals for solutions that meet their data protection and file services needs, and select Cohesity with confidence that their implementations will be seamless. They can also select Cohesity knowing that our certifications were based on the proven Cohesity DataPlatform and Cohesity DataProtect, and that they are interoperable with the qualified VMware ESXi/vSAN software release.
Building on VMware Momentum
While we are excited to be officially part of the VMware ecosystem marketplace, vSAN compatibility is not new to Cohesity customers. Our software-defined solutions already protect VMware deployments and deliver file services, maximizing existing virtualization investments by consolidating and automating VM-based secondary data and apps, as well as any other physical, database, or cloud-native secondary workloads deployed across private, hybrid, and public clouds.
Tightly integrated with VMware vSphere, VMware vCenter Server, VMware Cloud Foundation, VMware vRealize Suite, and VMware vCloud Director, Cohesity for secondary data and apps complements VMware vSAN for primary software-defined storage. Cohesity also supports backup and recovery and file services for VMware Workspace ONE virtual desktops.
This news is as exciting for us as it is for our customers. To learn all about Cohesity and VMware, check out the resources below.
Cohesity and VMware Additional Resources
Data Protection
File Services