Future-proof IT Investments and Lower TCO with Heterogeneous Clusters
This is Part I in our heterogeneity article series.
As the pandemic has unfolded, it has become increasingly clear that most industries will be impacted economically. Yet recent events also have underscored the critical role IT is playing in terms of helping businesses embrace the new normal, drive better scalability and flexibility, and equally as important, lower total cost of ownership — which can help organizations weather these challenging times. This directly applies to actions IT can take with data management.
The rapid evolution of application architectures and deployment models makes flexibility in IT infrastructure design a more important consideration when managing total cost of ownership (TCO). And the options just got better for teams like yours, already experiencing the benefits of modern data management on a single software-defined platform, spanning core, edge, and cloud.
In a first for enterprise IT organizations, Cohesity introduces support for multi-vendor, heterogeneous clusters for complete data management, expanding business flexibility and choice in addressing varied use-case requirements. And greater flexibility helps lower your TCO because you now have the opportunity to right-size capacity, performance, and cost at the same time. For example, you choose how, where, how many, and when to deploy compute-heavy nodes and storage-heavy nodes in one cluster—all depending on your workload needs.
One Size Does Not Fit All
Most data management software is designed to run on one hardware platform—not across many different types of servers in the same cluster. When designing a data management cluster, teams typically deploy homogeneous nodes, certified servers of the same make and model from the same vendor, configured with the same processing power and storage. The only exception being the ability to swap in newer machines from the same manufacturer for older ones as generations change. But Cohesity is unique in delivering software that operates across a range of hardware options in the same cluster in one pool, boosting capabilities and service quality without negatively impacting budget.
Starting with release 6.5, Cohesity added options to existing heterogeneous hardware support, enabling your IT organization to combine different models of HDD (hard disk drive) nodes from multiple vendors (Cohesity + 1) together in the same cluster. For example, you can combine Cohesity nodes with either Cisco, Hewlett-Packard Enterprise (HPE), or Dell nodes, or Cohesity nodes with other Cohesity node models.
During deployment of Cohesity DataPlatform, you now have the following options:
Combine Cohesity nodes with nodes from Cohesity and/or a certified partner (e.g., Cisco, HPE, Dell) in a single cluster
Combine nodes of multiple generations in a single cluster
Combine nodes of different form factors and relative price points (with lean or dense compute and/or storage resources) in a single cluster
Combine the storage capacities and performance of all the nodes in a cluster.
These images illustrate different ways you can combine nodes for heterogeneous cluster deployment: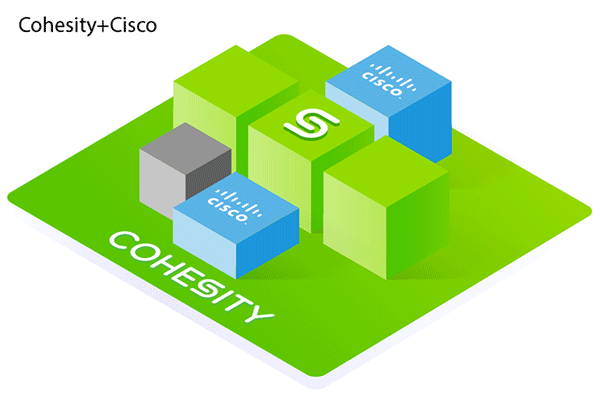 Cohesity customers can get all the details about supported configurations, including a node co-existence compatibility matrix, in Cohesity Product Documentation.
Why Data Management Node Flexibility Matters
Older, homogeneous nodes with less capacity and lower performance can hold organizations back. In addition to raising total costs, these nodes can prevent teams from efficiently taking advantage of newer, faster technologies. If left as-is, IT teams may end up creating cluster silos in an effort to keep what they have today and build for tomorrow. The alternative is a costly forklift upgrade.
In contrast, Cohesity's heterogeneous clusters allow you to adopt a multi-vendor or vendor-neutral strategy, or if you choose, to transition between vendors at your own pace, future-proofing your IT investments.
Heterogeneous clusters are an ideal way to optimize performance and capacity in all of the places and ways you need them to optimize business results. For example, in the case of file and object workloads, you can mix compute-heavy nodes for performance-intensive workloads (e.g., video and images stores, corporate file shares, and home directories) with storage-heavy nodes for capacity-intensive workloads (e.g., archival and cold data stores for Splunk and Hadoop)—all in a single, software-defined cluster. Because each node can have different cost, performance, and capacity profiles, the mixing of nodes with Cohesity's software and industry-leading deduplication and compression provide best-in-class storage efficiency that lowers TCO.
With a truly distributed, web-scale, shared-nothing software architecture, heterogeneous clusters of Cohesity deliver these benefits to your organization:
Maximizes ROI, as well as optimizes performance and capacity for varied use cases, through the mixing of multiple generations, form factors, and vendor nodes in a single cluster based on workload requirements
Eliminates silos created by the need to maintain multiple, uniform clusters
Speeds adoption—all without time-consuming data migrations and/or forklift upgrades by system admins
Accelerates scaling by boosting performance and storage capacity
Saves time by ensuring the immediate availability of new node resources
Future-proofs for backup and unstructured data workloads with the assurance workloads aren't bound to outdated hardware or uniform nodes from a single vendor
With expanded flexibility in how you deploy Cohesity software on certified hardware from different vendors and across form factors and generations, today your organization can move forward, faster toward a heterogeneous future that best addresses your use-case requirements. Stay tuned for Part II to learn how our heterogeneous capabilities are going to get even better!