Integrated Bare Metal Recovery with Cristie BMR App on Cohesity App MarketPlace
Cohesity announces the Cristie Bare Metal Recovery application in its applications MarketPlace. With this application, Cristie's virtual appliance runs natively on the Cohesity cluster and vastly simplifies bare metal recovery (BMR) operations. This application furthers the integration between the Cohesity data management platform and the Cristie BMR product. The app is generally available today. Give it a whirl and send us your feedback. Wondering how this app can help your business? Read on.
Enterprises cannot afford downtime, no matter their size. Downtime during an outage causes damage beyond immediate revenue losses — even worse, it can impact the brand long term. In some cases, businesses do not get a second chance if they lose the faith of their customers, investors, and other stakeholders. To quantify this a bit, a Gartner survey indicates that businesses lose anywhere between $500k-$1M per hour of downtime, but this widely depends on the nature, length, and impact of the outage.
Downtime is caused by various disasters including, but not limited to: a natural calamity, a severe data center outage, or a massive hardware failure or similar trigger that interrupts service and causes losses to the business. In the worst case scenario, entire data centers can get wiped out.
However, given the number of complex factors and dependencies that are involved in delivering a product or a service, downtime is a given. This is true for businesses of all sizes, which means, every global enterprise needs to have in place a disaster recovery strategy. This strategy outlines the procedures, operations and SLAs that businesses need to have in place to continue serving customers as they overcome these disasters. A robust disaster recovery strategy also needs to outline how entire business operations can quickly be restored. This includes recovery of all aspects of user-to-business interaction, which usually involve servers, operating systems, configuration, applications, and user data.
One of the key components that enterprises need to consider is a bare-metal recovery of physical servers, which allows enterprises to automatically recover an entire physical server from scratch to a brand new server. This is especially critical when workloads are not 100% virtualized. A good BMR solution makes it seamless to recover physical servers including the operating system, system files, and configuration into a new machine. A user or customer should not perceive any difference between the old (now lost) machine and the newly recovered machine. For this to occur, one needs a good enterprise BMR solution layered with user, application, and configuration recovery. Some of the metrics that are key to the success of an enterprise disaster recovery (DR) strategy are:
Time to recovery
Reliability of the recovery process
Multi-OS support
Multi-platform support
Size of backup
Fidelity of the recovered system
Simplicity of the solution
Enterprises need an integrated solution that makes it easy to programmatically achieve their DR, which ensures they are able to weather a disaster and continue serving their customers with the least disruption and data or configuration loss.
Cohesity provides the industry's most comprehensive data management solution, which includes a robust enterprise backup and recovery solution. The Cohesity solution is built on the spirit of consolidating silos and integrating all the capabilities to manage backup and recovery on to one hyperconverged platform that is very simple to manage. It provides the flexibility for enterprises to setup their DR strategy with recovery policies that match their RPO. This ensures that applications and user data for all applications, including modern workloads or cloud workloads, are restored in the event of a disaster.
This covers VMs and all user space volumes, but what about physical servers and machine images/files, you ask? Good question. As a refresher, please watch this video.
For BMR of physical servers, Cohesity has partnered with Cristie, a provider of comprehensive BMR solutions that can automatically and rapidly recovery systems directly from backups. System backups are taken periodically and ingested into Cohesity. This occurs via an agent-to-agent integration between Cohesity and Cristie. However, customers historically have had to contend with a tedious agent deployment and life cycle management workflow. Could this be made simpler with the Cristie application? Yes!
This is where the newest introduction to the App Marketplace, the Cristie BMR app comes in. The Cohesity App Marketplace is a collection of applications that are delivered to data in order to make the data more productive. Third party applications, such as Cristie, are deployed and run on the Cohesity cluster and have access to the data stored on the Cohesity platform via our applications SDK and management APIs. The Cristie application provides the Cristie Virtual Appliance BMR Management software as an app running on the Cohesity cluster. This application manages the deployment of Cristie agents to machines that need to be protected and machines used for recovery.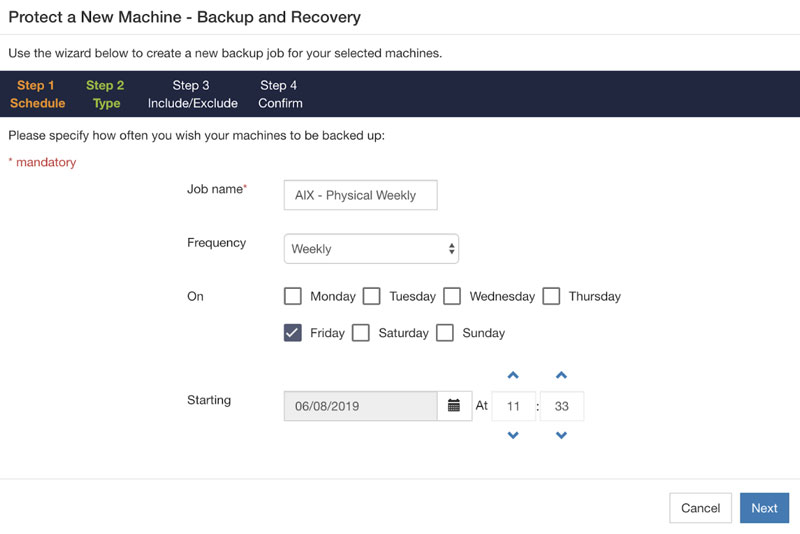 Bare metal recovery is an inherently a complex process: various disparate factors need to be on the same page for a clean, seamless restore. Not requiring any particular software or operating system as a prerequisite, BMR is an important strategy for use cases in which your systems need to be restored to an intense degree of fidelity. BMR, therefore, is a unique part of your IT playbook – it allows for rapid recovery of elements in your infrastructure, when disaster strikes at a foundational level. The dilemma is the complexity of traditional BMR solutions, yielding two fundamental challenges: 1) system recovery is a lengthy process and 2) non-integrated methods for system recovery are complex and require highly nuanced skill sets to execute.
With the Cristie BMR application on Cohesity MarketPlace, the vitality of bare metal recovery takes a page from Cohesity's playbook and becomes simple. Vastly different from traditional, non-integrated methods for bare metal recovery, the Cristie BMR app is an integrated solution, dramatically reducing the need for nuanced skill sets and the time required to complete recovery. Disaster does not need to churn a visceral reaction; with integration between Cohesity and Cristie, system recovery at a foundational level is simple.
This integrated solution with Cohesity running the Cristie virtual appliance simplifies the workflows and avoids the need for an additional piece of infrastructure to run the Crisite Virtual Appliance, thereby combining the best of breed data management solution with a comprehensive enterprise BMR solution. Together, it provides customers the ability to define a DR strategy as per their recovery point objective (RPO)/recovery point objectives (RTO).
This is but a first step in the integration between Cristie and Cohesity. The app will evolve to further simplify the BMR backups and recovery workflows. Go ahead and give the Cristie app a try and give us your feedback.