Simplifying Global Data Management for Better Business Insights and Outcomes
Hodgepodge. Patchwork quilt. Dizzying array. These are all ways to describe the state of today's data management. IT infrastructure has increasingly spread across its traditional data center boundaries and into multiple global locations, including public clouds. As a result, IT infrastructure has become difficult to strategically manage with legacy point products.
Imagine being the person in charge of this unruly sea of global infrastructure silos, when things go from bad to worse. You're already juggling multiple service level agreements, vendors, products, and interfaces. But then your company expands, and your problem gets exponentially worse. Your data is spread across multiple clusters in different locations, both on-premises and in the public cloud. 
Instead of being able to manage all of your global data from a single, unified solution, you get more of the same chaos, magnified. You are:
Manually managing different infrastructure silos built on aging multi-vendor solutions with their own set of UIs and support contracts  

Unable to optimally utilize available resources (storage, compute, and more) or effectively plan for future requirements to avoid potential downtime

Reactive to business requirements, including always playing catch up with evolving compliance needs and increasing cyber threats

Unable to gain valuable insights from data to meet business requirements 
Many of you may be slowly nodding your heads in agreement because that scenario isn't so difficult to imagine. Is there an answer? Yes: Cohesity Helios.
Now imagine being able to manage all of your global data, wherever it resides—on-prem, at the edge, or the public cloud—from a single, unified user interface that also comes with powerful machine-driven, predictive analytics, and contextually relevant actionable recommendation. In this scenario, enterprises would see significantly improved efficiencies, get much better at predicting future requirements, detect anomalies—including ransomware attacks on the IT production environment, avoid downtime, and draw extensive insights from previously untapped data, all while reducing their cost.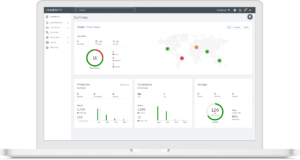 All Data and Apps, Unified 
With Cohesity DataPlatform and Cohesity Helios, a SaaS-based management solution, you can manage your global data and infrastructure from a single solution that spans all locations—on-prem, at the edge, and the public cloud
Helios is designed to help you and your team accelerate IT productivity, improve business planning and continuity, and assist in deriving valuable insights into previously untapped global data. With a unified global platform, you can start taking advantage of Cohesity and your own custom apps to gain valuable insights into your data to meet business and compliance requirements.
Key Benefits of Helios Include: 
Simplified Global Data Management: 
Utilize a single, aggregated dashboard to capture a global view with the flexibility to drill down into any specific Cohesity cluster—regardless of the cluster's location—simplified management at its best.  

Go beyond just "view and monitor." Roll out global policies and perform upgrades to all your Cohesity clusters in order to take full control of all your data and apps.

Click here

to see Helios in action. 
Machine Drive Operational Efficiency: 
Take advantage of Helios SmartAssist capability, which analyzes available and required resources (compute, storage, etc.) to help you meet your SLAs. 

Analyze global operational data of your Cohesity clusters (current storage efficiency, dedupe ratio, garbage collection, workloads, etc.), and recommend when additional resources are needed in order to ensure uninterrupted service (like the gas gauge in your car). 

Also, like popular fitness apps, Helios uses operational data collected from global customers to help you evaluate and optimize your operational performance (storage utilization, cloud utilization, backup windows, etc.) against others with similar environments and workloads. 
Machine Learning-Based Ransomware Detection and Actionable Recommendation:
In a situation where your primary IT environment, users, and application infrastructure are impacted by sophisticated ransomware attacks, Cohesity Helios can help you out of that jam. With its machine-driven anomaly detection, Helios will provide eyes and visibility when you're not able. With SmartAssist, Helios will alert you when it detects anomalies based on:
Daily change rate on logical data

Daily change rate on stored data (post-dedupe)

Pattern-based on historical data ingest

Entropy (randomness of data)
Besides monitoring the backup data change rate, Helios also helps locate a clean copy of the data to perform rapid recovery. 
Smooth Business Continuity: 
Perform actionable searches across your global data and metadata and take appropriate actions, such as rapid recovery from a ransomware attack, or instantly mount or clone to accelerate app development directly from the same screen. 

Get business-critical predictions with a "what-if" analysis, which is an intelligent sandbox built within Helios. This allows you to evaluate impact before making any major change to your global environment. 

Meet business and compliance requirements with easy access to the Cohesity

Marketplace

applications. Beyond consolidating, securing, and managing their data, Cohesity helps customers begin to derive value from it. With apps from the Marketplace, customers are able to put their data to work, turning an otherwise dormant insurance policy into their greatest competitive advantage.
Cohesity Helios is the next giant step in fulfilling our vision. We know IT infrastructure will continue its gradual spread across traditional data center boundaries and into multiple global locations. It's the nature of business growth. But global expansion doesn't have to mean disaster, in fact, it can be quite the opposite. Cohesity is here to help you keep pace with your data and applications, regardless of where they reside.
Additional resources –