Cohesity for Dell PowerEdge: Use Backup Data Beyond Recovery
Access to all of your data, when you need it, gives your business an edge. While IT has focused on production workloads, secondary data including backup, archives and more is now 80 percent of total enterprise data volumes, making visibility into it critical to digital business success. The challenge is data proliferation across different locations, infrastructure silos, and management systems has led to mass data fragmentation, stalling IT efficiency and preventing the full realization of your data's value. Because siloed data across on-premises and clouds is dark, insight opportunities decrease while security and compliance risks rise.
Together, the Cohesity software-defined platform and certified Dell PowerEdge node modernize data infrastructure. The joint solution boosts IT agility and flexibility by consolidating previously siloed enterprise backup data and applications and empowering IT to do more with secondary data for test/dev, analytics, security, and compliance workflows. Spanning on-premises and multi-cloud environments and featuring a single user interface, the joint solution reduces management complexities, compliance risk, and costs for global enterprises and governments.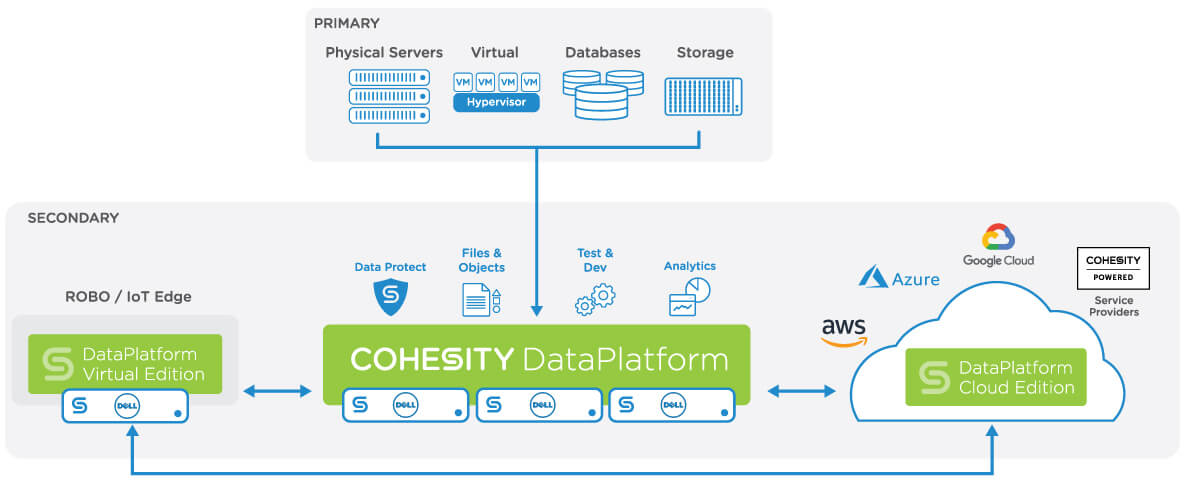 Proven Solutions from Trusted Partners
The Cohesity certified nodes for Dell PowerEdge are optimized to run Cohesity DataPlatform and Cohesity DataProtect, accelerating data center modernization initiatives and enterprise journeys to hybrid, multi-cloud data architectures. The combination of simplified, web-scale Cohesity software and the power and flexibility of industry-leading Dell PowerEdge nodes maximizes data protection and insights and creates endless digital business transformation possibilities.
Simple, Fast, and Efficient Secondary Data & Apps Platform
Cohesity software on the certified Dell PowerEdge node is a web-scale, pay-as-you grow platform with non-disruptive performance and capacity expansion. It streamlines your data footprint with highly efficient global, variable-length, sliding-window deduplication and compression. It also enables you to eliminate forklift upgrades, disruptive downtime, and over-provisioning while enjoying fast backups with parallel data ingest and instant mass recovery. Featuring simple policy-based management, the solution is designed with open APIs for easy integration and support for traditional and emerging workloads.
Built for Hybrid and Multi-Cloud Strategies
Cohesity software simplifies your public cloud integration efforts. Global SaaS-based management, search, and granular recovery seamlessly span on-premises to clouds such as Amazon Web Services, Microsoft Azure, Google Cloud Platform, and Cohesity Powered service providers. The solution lets you unify, protect, access, and control your data anywhere for cost-effective disaster recovery, cloud archive for long-term retention, cloud storage for tiering, and simple protection for cloud-native and SaaS applications.
Delivering More Than Backup
With our joint solution, your IT team can leverage backup data to accelerate application test/dev and streamline compliance. Cohesity prevents backup data from becoming a ransomware target, detects attacks, and rapidly responds to recover at scale, strengthening business continuity. Cohesity certified Dell PowerEdge node brings compute and apps to the data, so you can run analytics on backup data for deep insights. Build custom apps and discover Cohesity and third-party apps in the Cohesity MarketPlace to extract value from your secondary data.
Dell PowerEdge Nodes Certified for Cohesity Software
For Dell Technologies customers, a Cohesity certified Dell PowerEdge node is a flexible, hyperconverged building block to deploy Cohesity software. It supports configurations with different CPUs, memory, solid state drives, hard disk drives, and network interface cards validated to meet Cohesity requirements.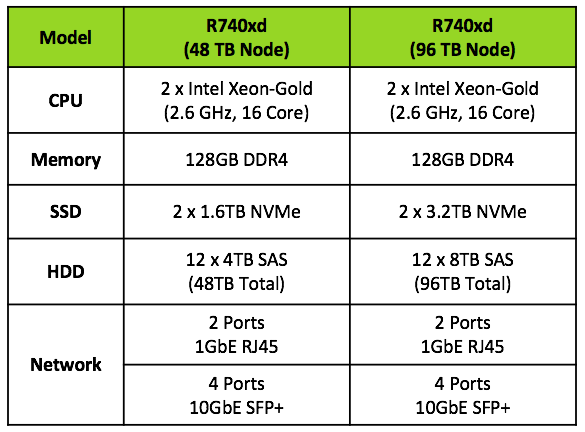 * Scale capacity non-disruptively as needed, starting with as few as three nodes and scaling-out linearly by simply adding individual node(s) to the cluster.
So why wait?
Don't let your secondary data become the primary problem. Allow your organization to protect, store, and easily manage their secondary data starting with backups, and extending to archiving, file & object storage, test/dev and analytics with a web-scale, software-defined platform that spans seamlessly between data centers and clouds – eliminating legacy infrastructure silos and mass data fragmentation while providing a single point of global control. Cohesity software on Dell PowerEdge empowers you to do more with you backup data, freeing it from being just an expensive insurance policy and enabling you to repurpose it for business advantage.
Read the solution brief.
Learn more at www.cohesity.com.