Introducing Pay-per-Use: Consumption-based Subscription for Cohesity Service Provider Partners
With their massive reach, deep customer intimacy, and multi-cloud expertise, service providers are key strategic partners for Cohesity, entrusted with the most important (and lasting) IT decisions in an increasing number of organizations. And as cloud becomes a utility, more enterprises are handing over their IT keys to service providers to deliver always-on, always available digital services to their teams.
In spite of the strong tailwinds for the industry, however, it is far from easy for service providers to deliver cloud services profitably and predictably. When it comes to data management services (Backup as a service, DR as a service, Data security services etc.), it is particularly challenging to accurately provision capacity and resources corresponding to variable customer demand—especially when they are made to purchase long-term and inflexible licenses.
Consumption-based Pricing: Helping Service Providers Fine-tune Purchases To Track Customer Demand
Here at Cohesity, the foundation of our service provider route-to-market is to gather feedback from leading service providers across the world, learn, and deliver features and solutions in each release that cater specifically to their use cases. We have a two-part guiding question: Will this release or feature help our service provider partners deliver a delightful experience to their customers, and will they be able to reduce their total cost of ownership and operational complexity while doing that?
And while we've made progress with our industry-leading platform capabilities such as multi-tenancy, reporting, chargeback, as well as dedicated go-to-market support, we wanted to go even further to ensure that our Service Providers' Cohesity-Powered services are profitable, and ensure that they are able to scale services to thousands of customers. And to that end, we're proud to announce Cohesity Pay-per-Use for Service Providers today.
Instantly Lower Cost
Pay-per-use is a consumption-based software subscription model, wherein service providers can elect to pay Cohesity only for terabytes they actually use, no matter how much they have provisioned capacity for. Even if a service provider has procured enough capacity to support a petabyte-scale deployment, they will be charged only for the Terabytes they have actually consumed in a given month, subject to a minimum monthly commitment.
This also helps Service Providers move away from convoluted pricing forecasts and towards payments that track customer demand more closely.
Greater Visibility And Line of Sight
Along with lowering the bottom line, pay-per-use also helps service providers get better visibility into usage patterns and the ability to plan. Not just for capacity, but for the rollout of services. For example, usage metrics will help service providers get an idea into which services are profitable, how many tenants they need to break even, and so on.
Accelerated Time to Value
Pay-per-use also drastically reduces procurement complexity. As shown below, Cohesity offers a generous ramp period for providers to get service-ready, on-board tenants, and actually begin consuming, until which time they're (rightly) not subject to any minimum commitment. This hassle-free ramp period and simple tiering delivers a utility-like consumption experience, so that service providers can focus on their customers from Day 1.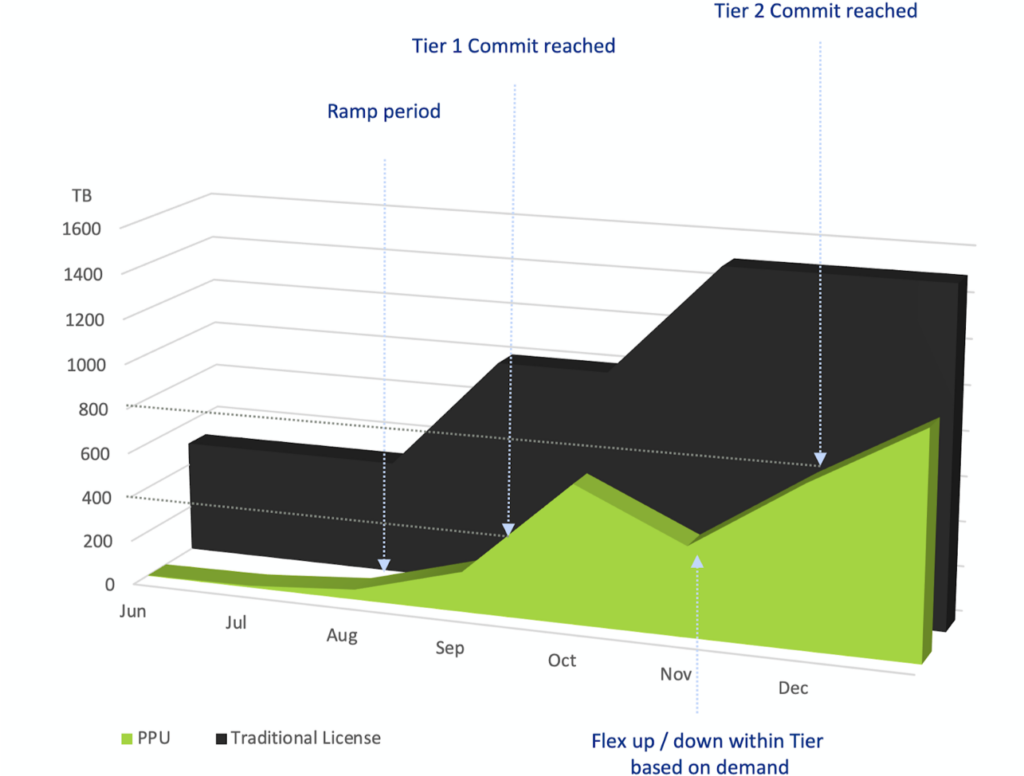 And finally, one of the best features of this pricing model is that almost all Cohesity products can be used under a single subscription umbrella. A service provider can mix and match product combinations to suit their services portfolio, and all of the products that they choose will count towards their monthly commitment.
Cohesity: Trusted by Service Providers Globally
The service provider market is not monolithic, and we strive to meet providers where they are in their delivery of services. We have solutions for SP-hosted offerings, co-located offerings, public cloud managed services, managed prem/managed edge, SaaS managed, and more.
Pay-per-use is accompanied by a host of technology improvements for service providers, including simplified DR orchestration, a new and improved Helios (coming soon!), and support for heterogeneous clusters. The idea is to enable service providers with the best technology platform, the best go-to-market support, and overall, make partnering with Cohesity a delightful experience.
If you are a Cohesity partner, check out pay-per-use in-depth on the Cohesity Partner Portal.
For more information on our service provider solutions, head over to cohesity.com/serviceproviders.
And if you wish to explore a partnership with Cohesity, discover more on our partner page.