The Wait Is Over! Modern, All-Flash Backup and Recovery for Rapid Recovery at Scale
All-flash storage is like racing fuel for your IT environment. It is higher performance than disk-based storage, so you can speed up operations and process more data faster. That's an advantage for your business. Yet until now, realizing the benefits of all-flash in tandem with backup data hasn't always been easy.
I am thrilled to report that Pure FlashRecover™, Powered by Cohesity® is now generally available, making it easier than ever for your organization to recover your data rapidly, reliably, and at scale. 
The Back Story
In August, Pure Storage and Cohesity announced a strategic partnership and intent to bring to market a jointly-engineered, modern, all-flash backup and recovery solution. Both companies saw strong demand in the market for a solution that would provide rapid recovery at scale, offer advanced ways to combat ransomware attacks, and create new opportunities to do more with data—all in a truly integrated experience. 
Analysts were quick to comment on the partnership, including Scott Sinclair at Enterprise Strategy Group who stated, "This is a smart move by both companies; one that looks very compelling for users."
Today, Pure Storage and Cohesity are delivering the industry's first modern, jointly-engineered all-flash solution that meets the most demanding recovery requirements. The solution makes it simple to manage flash-to-flash-to-cloud workflows across the lifecycle management of your data, as the following diagram illustrates.

Pure FlashRecover™, Powered by Cohesity® with Flash-to-Flash-to-Cloud Data Mobility
Senior storage analyst Steve McDowell of Moor Insights and Strategy wrote about the solution, noting in a recent Forbes article, "Not all data needs protection at the speed of flash. Most of an organization's data is locked away, rarely to be seen again. Traditional disk-based solutions, or even cloud archiving, make sense for that data. But there will always be data that must be instantly recoverable. FlashRecover addresses both of these needs."
Why Pure FlashRecover, Powered by Cohesity?
As organizations navigate the COVID-19 pandemic, we are reminded that change is constant, and cybercriminals don't take vacations. For reasons that range from data security to market competitiveness, we cannot riddle our IT environments with slow processes and silos. These silos introduce complexity that consume valuable time that already overburdened IT staff simply don't have.
Pure FlashRecover, Powered by Cohesity, eliminates data silos, converging and speeding backup and recovery with ease of management. In one solution, customers get the super-rapid recovery times that all-flash storage delivers with complete data management and protection across the enterprise for:
Robust business continuity

—ensuring massive throughput (up to 3x faster backup and restore than disk-based alternatives) and lower latency with flash-optimized backup for the most demanding recovery SLAs—without disruptive upgrades.

Ransomware recovery at scale

—enabling IT teams to recover thousands of virtual machines (VMs) a day and up to one petabyte a day to meet critical recovery needs.

Data agility

—offering seamless flash-to-flash-to-cloud backup, recovery, and archiving through native cloud integration.

Accelerated innovation

—supporting faster reuse of backup data for other business outcomes, such as DevOps and analytics.
The solution is available in a flexible deployment model, so your organization can enjoy disaggregated compute and storage for independent scaling of backup and recovery processes.
How to Buy
Because Cohesity and Pure Storage prioritize customer obsession as a core value, we have not only built the best-integrated solution but also made the buying and servicing experience seamless.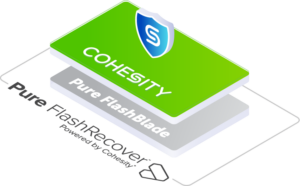 Contact Pure Storage for a single-solution quote and to purchase our jointly-engineered solution on a single PO. Then work directly with Pure as a single point of contact for world-class support for Pure FlashRecover, Powered by Cohesity.
For More Information
Ready to add racing fuel to your IT environment? To find out how your organization can leverage the benefits of Pure FlashRecover, Powered by Cohesity, visit:
Pure Storage: Podcast and blog post