SaaS Apps Require Backup – Myth or Reality?
In the first blog of this series, I will be analyzing the need for a third-party backup and recovery solution for Software as a Service (SaaS) applications. To begin with, let's look at how the backup and recovery landscape has changed while the data is getting transitioned from on-premises to SaaS applications.
According to the State of SaaS 2017 survey, adoption of a SaaS application delivery model has grown leaps and bounds.
"Companies use 16 SaaS apps on average today, up 33% from last year. 73% of organizations say nearly all (80%+) of their apps will be SaaS by 2020."
Though organizations are increasingly adopting and moving towards a SaaS model, they still continue to experience data loss due to the following reasons.
Figure 1: Reasons for Data Loss in SaaS Application


Organizations have developed a set of backup and recovery best practices to recover from the above scenarios for their on-premises data. These best practices were formulated over a period of time and are based on observations, experience, and compliance requirements they work under.
Backup and recovery in the SaaS world is different from on-premises because it's a shared responsibility. Yes, SaaS platforms are robust and provide some protection against infrastructure failures, application failures, and disasters scenarios. However, failures do happen – as mentioned above – and as a consequence, customers do lose data. Recovery from such data loss scenarios are the customer's responsibility.
While organizations have moved their data to the cloud, they are often concerned about losing control over their data. SaaS providers have done reasonably well when it comes to availability. However, when it comes to backup, there are many gaps. Hence, in most cases, the backup SLAs are either undefined or, at best, vaguely defined.
Let's compare on-premise backup vis-à-vis SaaS backup to see the gaps that exists.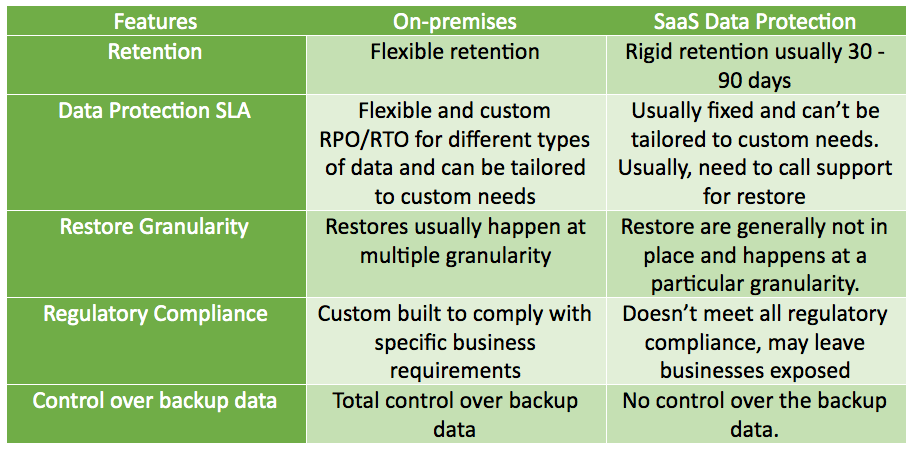 It's Not a Myth: SaaS Apps Do Require Backup
There are limitations in SaaS backup when compared to a more matured on-premises backup. For a seamless adoption and transition to SaaS applications, these limitations need to be overcome. Hence, a third-party enterprise-class solution is required to align both the on-prem and cloud worlds in order to create a homogeneous experience for customers.
In next blog of this series, we will talk about one of the most adopted SaaS applications i.e. Microsoft Office 365. We will analyze the out of the box data protection features provided by Microsoft and see if they are sufficient in entirety or we need a solution to complement the same. Stay tuned.