Cohesity 6.0 Continues to Advance Simplification of Secondary Data and Apps
Continuing our vision to simplify management of secondary data and applications infrastructure, we are excited to announce the availability of Cohesity 6.0, which brings new capabilities to both DataPlatform and DataProtect.
Our focus has always been to help organizations modernize their secondary data environments by consolidating workloads, such as backup and recovery, files and objects, and test/dev on a single platform. The goal is to help organizations simplify their secondary data and apps infrastructure and derive more value and insights from their most critical resource – data – in order to meet business and compliance requirements.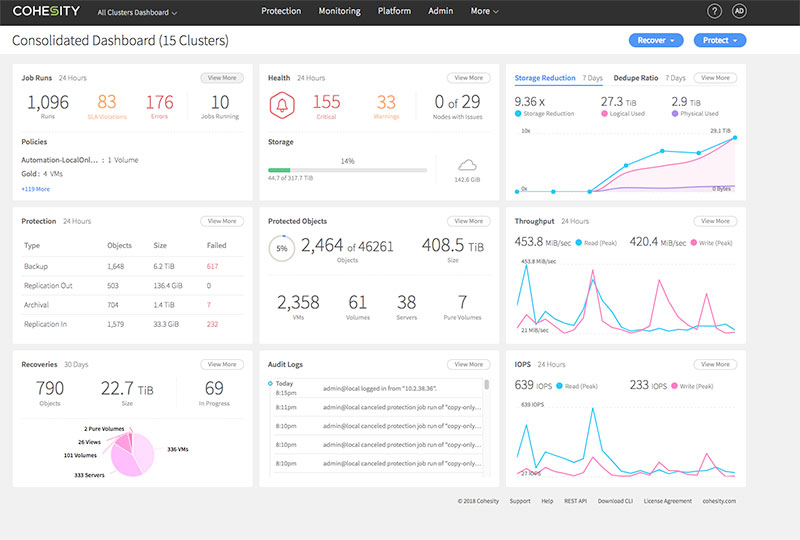 What's New in 6.0:
* Simplified multi-cluster management:
IT admins can now manage all of their Cohesity clusters from a single, unified dashboard, irrespective of location.
Admins can quickly evaluate the status of their entire secondary data and applications infrastructure using single sign-on. This includes job completion status, current infrastructure health status, storage utilization, throughput and IOPS details, and much more. The goal is to optimize the performance of their infrastructure and better meet operational requirements.
* Expanding data protection capabilities:
Expanding on our already robust ecosystem, we now offer highly-anticipated, native support for Oracle workload protection. With this addition, customers are no longer forced to write custom RMAN scripts, thus streamlining the protection process.
This release also enhances SQL protection with the ability to perform database-level backups using CBT and recovery SQL databases and logs to any SQL server instance.
* Accelerating cloud capabilities:
CloudSpin: This enables the idle backup data to be easily used in the cloud for test/dev and moving it back to on-premises for promoting to production. Customers can benefit from a single solution for both test/dev and backup, allowing them to accelerate application test and development in the cloud.
Cloud DR: Enables DR failover and failback, which allows customers to recover VMs in the cloud and enable cloud-based DR.
* Capacity optimization:
~20% more compression with Zstandard for a wide range of datasets in order to help increase capacity utilization.
Cohesity Analytics Workbench (AWB)
We have always been a big proponent of eliminating unnecessary data copies and bringing compute to data. Powered by a MapReduce framework that is natively built into Cohesity's SpanFS, and coupled with the appropriate compute and storage resources under one solution, Cohesity AWB offers expanded capabilities in 6.0 that will enable IT admins to derive more insights from their secondary data.
Key Analytics Workbench (AWB) Benefits:
* Pattern Finder App assists customers in getting close to achieving GDPR compliance requirements:
Runs a search for multiple patterns at once.
Searches within a wide range of file sources, including text files, office files, pdfs, and zipped folders containing the above file types.
Useful from an e-discovery and compliance perspective.
* Password Detector helps meet best practices and compliance standards:
Supports alphanumeric string searches that possibly could be passwords.
Provides a probability around the confidence of the string being a password.
* Video Compressor helps optimize capacity utilization:
Supports compression of media (.mpeg, .avi, .mp4, .flv, .wmv, .mov formats) files.
Reduces the storage footprint, while retaining the file in the new compressed format.
The AWB offers users the ability to leverage the map-reduce framework by uploading their own JAR files.
Of course, our data protection-modernization efforts are a project in motion, as we continuously strive to help customers simplify management of secondary data and applications infrastructure. As always, stay tuned to this space.