Demand More from Your Backup and Less from IT with As-a-Service Solutions
Businesses today are expected to operate at a pace previously unheard of. It is more critical than ever for organizations to continuously deliver innovations and to do it faster than competitors. To support this goal, IT should focus on the core competencies that help businesses innovate faster, instead of simply keeping the lights on in the data center. One way for IT to do this, is by adopting an as-a-service mindset. This trend is also enabled by the rise of cloud computing which provides access to critical IT resources and services on-demand with the swipe of a credit card. In a recent survey of IT executives, 73% of organizations said nearly all (80%+) of their apps will be SaaS by 2020.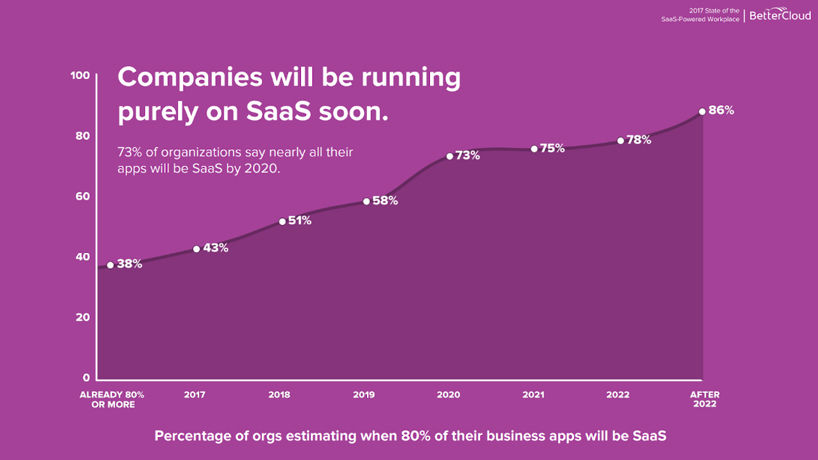 But what makes as-a-service offerings the best thing since sliced bread? Here are some reasons:
Close IT skills and staffing gap: According to 451 Research, 70 percent of businesses are moving toward multi-cloud/ hybrid IT environments. However, few organizations have the skills and staff required to navigate this new world and are looking to service providers (SPs) for a full range of cloud and managed services- everything from planning and migration to security and data services, and more.
Easier and faster access: Companies want all the benefits of technology without the pain of having to actually manage it. And they want this in hours or days, not weeks or months. Bonus points if they can consume it via an easy to access web interface from anywhere and on any device.
On-demand capacity and scalability: As-a-service offerings are built for uncertainty. They can easily accommodate increased demand and scale back down when not needed. You can't be limited by infrastructure constraints when you have no infrastructure.
Cutting edge of technology: Customers are always updated on the latest features and functionalities without having to wait for the next refresh cycle. This can be the biggest competitive advantage in the race for faster application development.
No ownership and maintenance: With no need to constantly maintain infrastructure or skill and update people and processes, companies can now spend their time on other revenue-generating activities. (This is especially a good idea given the rate at which technology is rapidly evolving!)
Flexible payment model: One of the biggest advantages of an as-a-service model is the transition from a one-time capital expense to a recurring, quarterly or monthly operational expense. This makes it much easier to consume technology by breaking up its cost over multiple staggered installments in a pay-as-you-grow fashion that finance and accounting teams love.
IT becomes an enabler of innovation: Perhaps the most counterintuitive benefit of outsourcing IT to a third party or service provider is that it frees up internal IT resources from being a bottleneck to innovation. They can now elevate themselves to provide strategic inputs as to which services and providers can best satisfy the unique needs that different teams have within the company. They can also monetize these as-a-service offerings internally by providing a catalog of IT services with consumption based pricing that can be attributed to the appropriate LOBs. Suddenly, IT is no longer viewed as a cost center and instead looked upon as a revenue generator.
At Cohesity, our customers are at the heart of everything that we do and this means that we're not only continuously delivering innovations to solve the problem of mass data fragmentation,  but also simplifying access and consumption of our revolutionary Cohesity DataPlatform. We recognize that not all businesses are ready to own or manage infrastructure themselves and prefer to consume it as a managed service in a pay-as-you-go model.
To make it easy for you to access and realize the proven benefits of Cohesity data management platform that consolidates non-mission critical data and apps and extracts valuable insights, Cohesity partners with leading service providers worldwide. Our partners deliver Cohesity data management solutions as cloud and managed services across on-premises or hosted private clouds, co-location facilities, and public clouds with a flexible consumption model. Customers have access to a rich catalog of Cohesity data management solutions as-a-service including: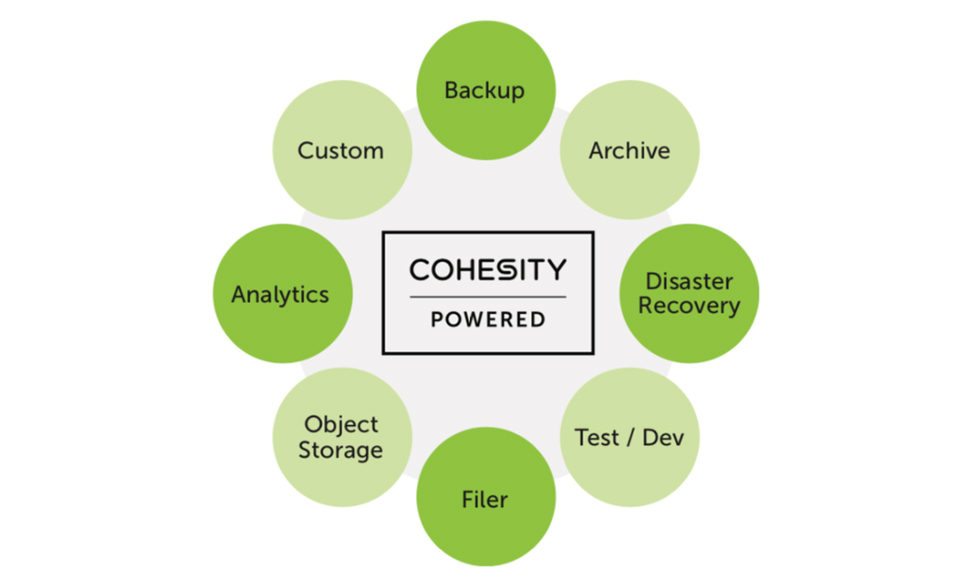 Backup as a Service – Backup and recovery that includes on-site data protection, direct backup to cloud, and cloud-native backup.
Archive as a Service – Long-term data retention and compliance across clouds with easy data access through Google-like search.
Disaster Recovery as a Service – Reliable off-site protection and business continuity with instant mass recovery in case of a catastrophic event at a primary site.
Filer as a Service – Scale-out NAS for user home directories, departmental network shares, and group collaboration.
Object Storage as a Service – S3-compatible object storage for unstructured data storage and retrieval.
Test/Dev as a Service – Test/dev provisioning in the cloud, supporting agile iterations, rapid cloning, and quick tear down, speeding application delivery.
Analytics as a Service – The ability to uncover insights from untapped secondary data and apps and streamline compliance while providing proactive and predictive analytics on capacity, consumption, data growth, and threat behavior/impact.
Custom Services – Custom secondary data and apps services, for example security as-a-service for ransomware recovery, using Cohesity's API-first architecture and RESTFUL APIs.
What is a Cohesity Powered service provider and why should you care?
To make it easier for our customers to choose the right service provider that is best suited for their unique data management needs, Cohesity created the Cohesity Powered trust mark, a designation available only to qualified partners who build their businesses on Cohesity's trusted platform and adhere to our strict quality standards. Service providers that earn the Cohesity Powered trust mark have made deep investments in Cohesity technologies and are committed to offering differentiated data management services as well as support on top of proven Cohesity solutions.
The Cohesity Powered designation gives you confidence that you're adopting the most complete, most advanced Cohesity technologies from your service providers. You are also assured of the greatest degree of data mobility and interoperability across clouds and the greatest advantage for your business. Cohesity Powered partners accelerate your journey to multi-cloud and empower you to unlock greater value from your enterprise data. Cohesity will continue to introduce new Cohesity Powered partners over time to drive greater flexibility for you in your selection of global service providers with consistent infrastructure and operations across clouds.
For more information, visit the service provider solutions page on cohesity.com. To find Cohesity service provider partners including Cohesity Powered partners, visit the service provider partner page.
Other useful resources:
Global market study on mass data fragmentation in the cloud
Solution Brief– Drive Continuous Innovation with a Cohesity Powered Service Provider
Blog– Cohesity for VMware vCloud Director: Backup and Recovery at Your Fingertips
Cohesity's Sanjeev Desai, Senior Director, Solutions Marketing, contributed to this blog.