Cohesity and Tech Data Partnership to Help Streamline Customer Choice
Being a 100% channel company means our partners are at the heart of an area where we take the most pride: customer obsession. Partners allow us to uphold our commitment to serving our most precious commodity because they help us meet customer needs quickly and effectively.
With that in mind, our partner landscape just got bigger and brighter. This week Tech Data became a major distributor of Cohesity in the U.S. and Canada, which will help us maintain the highest levels of service and efficiency so our partners can do what they do best — help customers collapse data infrastructure so they can protect, store and manage their apps & data simply and efficiently, while directly addressing challenges with mass data fragmentation. You can read a lot more about this partnership in a Tech Data press release issued today.
Tech Data and Cohesity's partner ecosystems are well-aligned, which provides more options for customers in how they want to deploy our solutions. It's an exciting time for Cohesity. We've reached a level of growth where we need to partner with companies that have an excellent reputation in the industry and will help us scale while continuing to provide the highest levels of service to our partners and customers.
Cohesity Mobile Demo Center at Tech Data
To help kick off this new partnership, our mobile demo center will be making a stop at Tech Data in Tempe, Arizona on December 6. Visitors can climb aboard our 18-wheeler semi-truck to test drive one of 20 demos of Cohesity's innovative technology. Check out our mobile demo center schedule to find out when we'll be coming to your area.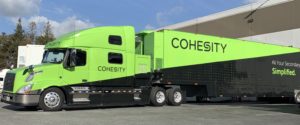 We look forward to an amazing future with Tech Data and our expanding partner community!
Resources:
Tech Data Press Release
For more information:
General information: Cohesity@techdata.com