Next-Gen Automated Disaster Recovery for Critical Business Applications and Data
Effective business continuity and disaster recovery solutions allow an organization to quickly resume business functions following disruptions to its IT or business systems. Disruptions can happen due to natural disasters, human errors, or ransomware attacks. The economic impact of downtime can be devastating to an organization as revenue and customers could go elsewhere. Many of these outages can also lead to significant data loss and severe challenges to business operations if businesses aren't prepared. 
Customer Service Levels 
How should organizations begin to prepare? The key questions to ask are:
How much data loss can the business tolerate?

How much application downtimes will the organization accept in case of disaster?

The first question is related to a service level called Recovery Point Objective (or RPO) and the second corresponds to a service level called Recovery Time Objective (or RTO). Businesses have various types of applications, some more critical than others, and the answers to these questions will vary by application type. 
Mission-critical applications need near-zero RPOs and near-zero RTOs while others can operate with less stringent service levels. 
Silos of Products
Today, organizations are required to use different solutions for protecting different application tiers and service levels. Backup software, continuous data protection (CDP) software, disaster recovery (DR) planning software, as well as storage and replication software all, remain separate pieces of the solution—silos being stitched together to meet needs which increases IT complexity and potentially exposes organization to cyber threats. Organizations also deploy different solutions for DR and backup and keep multiple copies of the same data leading to inefficiency and higher cost. 
Converged, Simple, Scalable Cohesity Solution
Cohesity is reducing all of that complexity by now providing a converged backup and disaster recovery solution on its scale-out platform.
The Cohesity solution meets the DR needs of different application tiers in IT environments. It provides near-zero RPO and near-zero RTO for mission-critical applications. It orchestrates backup replication-based DR for lower-tier applications. And all of it is done via a unified DR policy and a common DR plan orchestrator. DR plan orchestration is made easy via an intention-based user interface (UI) which includes a user intuitive designer for DR plans. The Cohesity DR solution includes built-in storage services such as global dedupe, compression, encryption, and replication that comes with the Cohesity platform. The storage optimizations happen across backup and CDP data.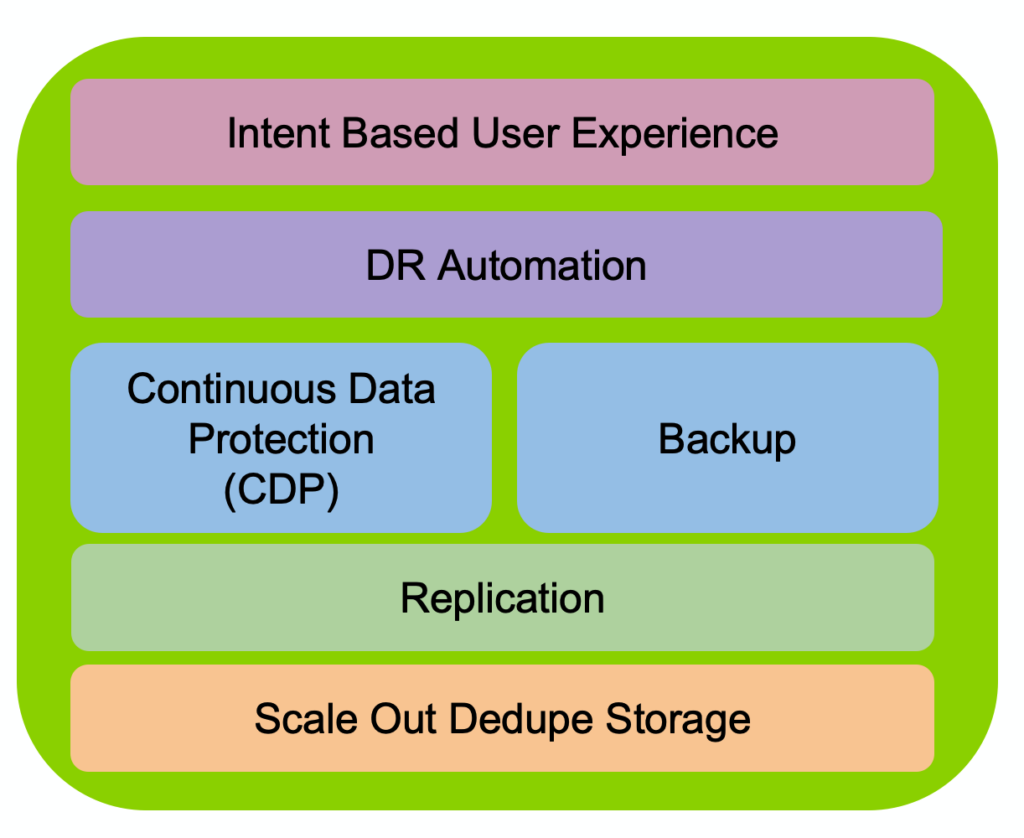 CDP is based on VMware VAIO (vSphere APIs for IO Filtering) standard with zero or very minimal impact to the primary system. CDP and snapshot-based backup are part of a common data protection policy to provide complete data protection. In the following example, a customer would protect its critical VMs using CDP for the last few hours combined with 12-hour snapshots, ensuring complete protection for a critical business application.

Key Features of Cohesity SiteContinuity
Unified backup and DR solution

Any-point-in-time recovery and near-zero RPO using CDP

Common DR orchestration for different service levels to meet the needs of all application tiers

Flexible DR Playbook designer with failover, failback, and DR testing capabilities

Hot standby configuration for near-zero RTO 

Multi-site, multi-cluster management Cohesity Helios, providing global orchestration and monitoring.
Users can create DR plans for business applications, monitor DR readiness, and carry out DR tests or failover. Users can design their DR plans for business applications using our intuitive user interface. Users can define the order in which VMs need to come up, provide network configuration for DR test or failover, and add scripts that need to be executed at recovery.
Cohesity is providing an intent-based GUI. A user will specify the RPO/RTO needed and the solution configures the policies accordingly. Depending upon the intent of the user, the solution will pick either a CDP-based policy or a backup-based policy. The system will accordingly proceed to configure a hot standby, so the VM will be ready to start on the DR site without the need for a restore. 
Once a DR plan is defined in the system, users can perform operations such as non-disruptive DR test, application failover in case of disaster, and failback.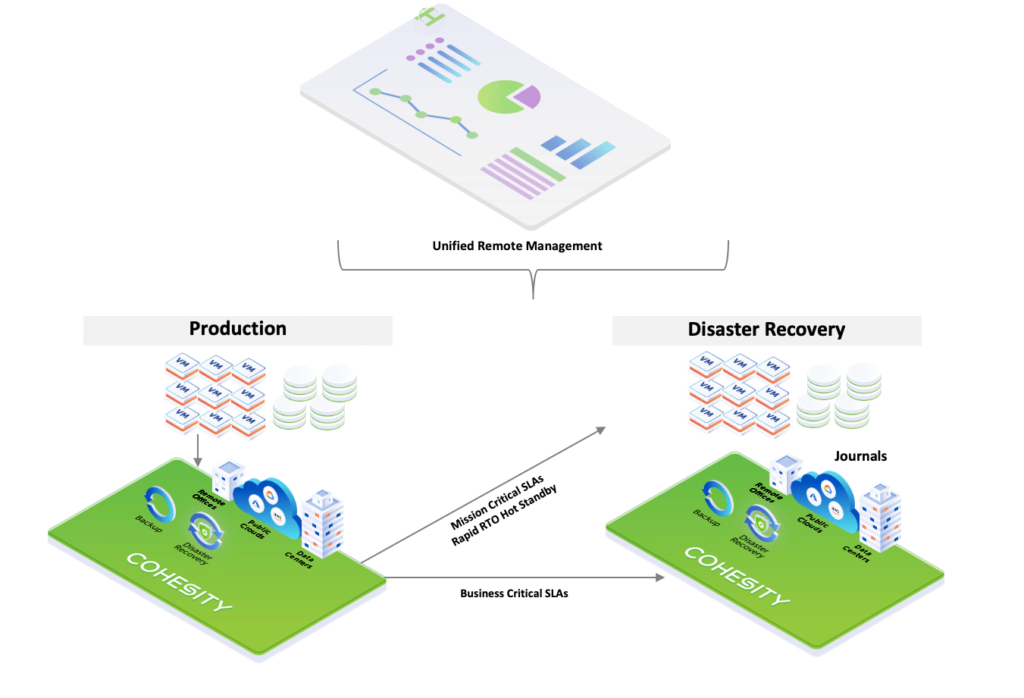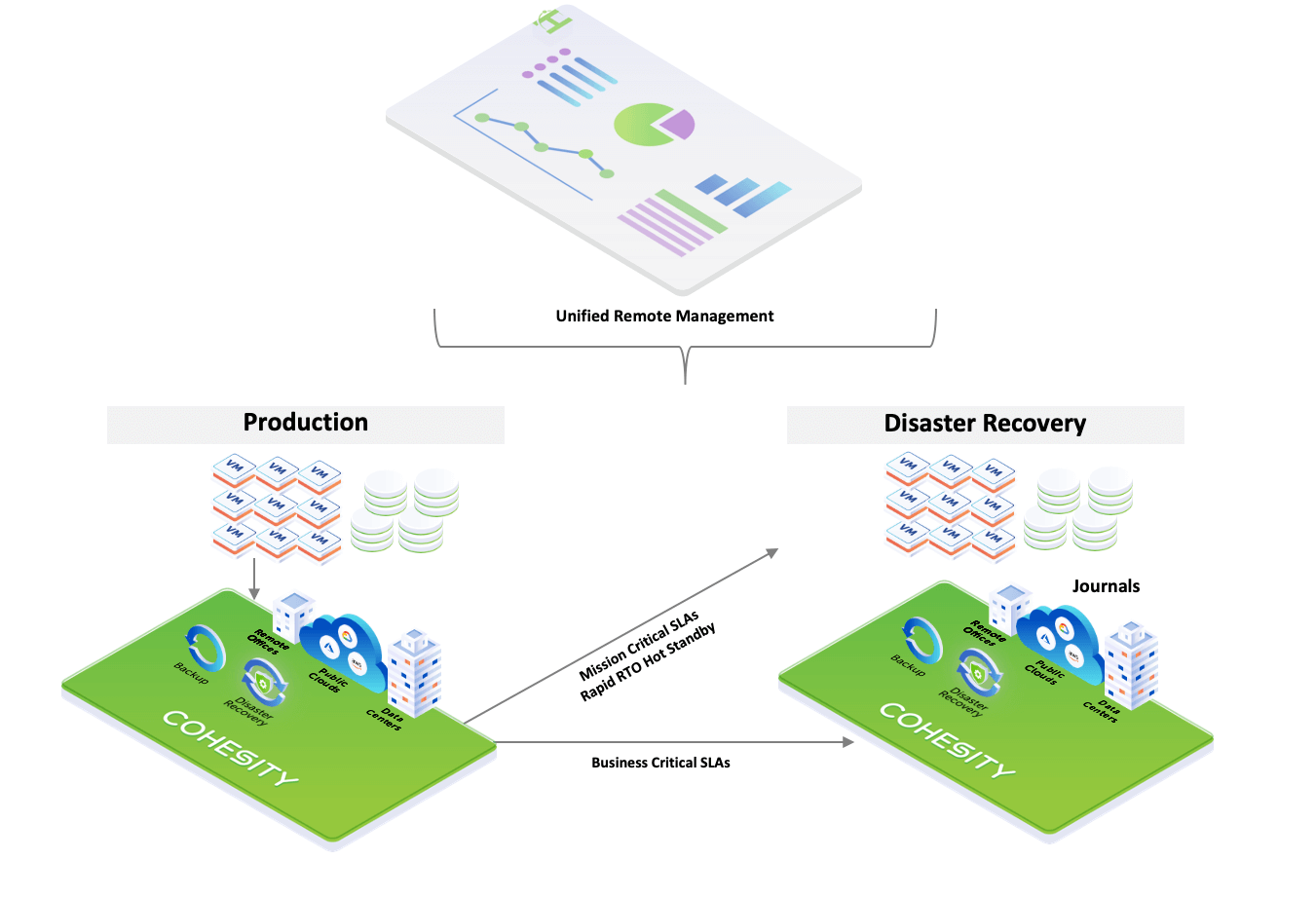 The new Cohesity solution serves a multitude of important use cases:
Mission-critical workload backup – Provide near-zero RPO backups for mission-critical applications

Ransomware protection – Cohesity's immutable architecture, ransomware detection, machine learning-based recommendation of a clean point in time to failover and rapid failover & recovery to any PIT using CDP provides for a complete ransomware protection

Non-disruptive DR testing for compliance and readiness

Automated unplanned DR, reducing data loss and minimizing downtime

Planned migration – Move business applications from one site to another, either on-premises or cloud
Cohesity provides a complete, end-to-end automated DR solution that enables businesses to meet their service levels in a repeatable and predictable manner. It provides all the capabilities needed for DR at a much lower total cost of ownership for customers.