Modern Infrastructure Impact Awards: Cohesity Is Honored To Be Selected As Finalist
SearchDataCenter (TechTarget) has just announced its list of finalists for the 2017 Modern Infrastructure Impact Awards in the Hyperconverged category.  And Cohesity DataPlatform has made the list!  Voting is underway for the winner of the category. You can vote for your preferred solution here

Extending the benefits of hyperconvergence to solve secondary storage sprawl
Cohesity is unique in the list of finalists – we're the only entrant with a hyperconverged solution for secondary data.  All the other entrants offer more traditional hyperconverged solutions for running primary workloads in the form of virtual machines.  But Cohesity is applying the well-known advantages of hyperconverged architectures to solving another major problem in the datacenter: secondary storage sprawl.
Hyperconverged infrastructure is a hugely popular architecture for modern datacenters.  It converges compute, storage, and management in one distributed platform, bringing the benefits of web-scale architectures to enterprises.  Hyperconvergence has proven its value with tremendous customer adoption as evidenced by the success of products like VMware Virtual SAN, Nutanix and Simplivity.
Up to now, hyperconvergence has mostly been adopted as a platform for running primary workloads in virtual machines with hypervisors like VMware vSphere or KVM.  In these situations, hyperconvergence simplifies IT infrastructure, and provides great performance at a reasonable cost.
Cohesity was founded by the inventor of hyperconvergence and co-founder of Nutanix, Mohit Aron.  At Cohesity, we believe that the benefits of hyperconvergence can be applied to solving an even bigger problem: secondary storage sprawl.  Secondary storage consumes about 80% of enterprise storage capacity, and typically consists of a patchwork of appliances like dedupe appliances, backup infrastructure, filers, storage for test/dev, and data lakes for analytics.  Data is typically copied 10-12 times across these silos.  It's a complex and expensive infrastructure to maintain.

Cohesity provides a hyperconverged platform designed to consolidate all secondary storage silos on one unified solution: backups, backup targets, cloud gateways, files, test/dev copies, and analytics data.  The Cohesity approach simplifies secondary storage, eliminates the need to copy data across silos, provides efficient data management, and deep visibility into the data.
Cohesity has developed a hyperconverged solution that combines distributed storage, scale-out compute, native cloud integration, and converged data management functions on a unified web-scale platform.  It's a unique architecture designed from the ground up to solve the secondary storage problem. There is no other platform in the industry that combines all of these capabilities in one unified solution. The picture below provides an overview of the Cohesity hyperconverged solution.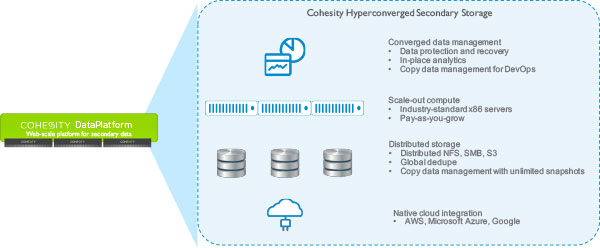 At Cohesity, we believe that hyperconvergence is the future of the datacenter.  And now, with Cohesity DataPlatform, customers can leverage this architecture to bring their secondary storage infrastructure into the modern era.
You have an opportunity to voice your opinion too, and decide which product is having the greatest impact in the hyperconverged product category.  Please take a moment to vote for your favorite product.
Happy Voting!
Gaetan Castelein
@gaetancastelein