How Office Space Contributes to a Company's Culture
I still remember walking into our Cohesity headquarters for the first time and getting an immediate feel for the company culture. People sitting in an open office environment, almost elbow to elbow, collaborating while writing on their whiteboard desks. Other employees sitting in a circle on bright green beanbag chairs talking about the latest product release. Engineers hanging out in the all hands area, working to solve a complex technical challenge. Even in a 5-minute glance, the space highlighted aspects of Cohesity's culture – one of collaboration, where people have open dialogues with colleagues to share ideas, problem solve, innovate, and then take a break with teammates, while chatting on the lobby couches about their weekend plans. The look, feel, and functionality of an office space is critical to defining and nurturing a company's culture and is critical to developing how employees "work and play" together. Although we love our current location in our Santa Clara headquarters at 451 El Camino Real, our rapid headcount growth put us on the search for a new office location.
When we were looking for our new Cohesity Headquarters, 3 main drivers helped narrow down the search – aspects that are important to keeping our culture alive and employees happy:
Open space working environment, with the flexibility to grow and expand the business
Outdoor areas where colleagues can gather for social activities, get in a lunchtime workout, and easily walk to restaurants and cafes
Easy access to public transportation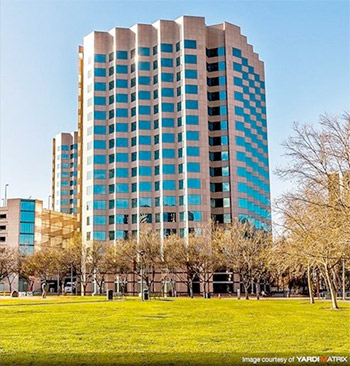 Luckily we found all of this at: 300 Park Avenue in Downtown San Jose, in the Riverpark Tower II Building!! We are so excited for our new space, and will start construction soon on building out the 7th and 8th floors – a total of almost 40,000 feet of space. Our target move in date is December 1st. More information on our new Cohesity home, can be found at the following link.
Although we are almost tripling in space, the main goal of the space build out, (especially when designing open collaboration spaces, conference rooms, selecting furniture, and even details like paint color) is to keep the company culture alive and well, just on an even grander scale!